This article is more than 1 year old
Hitachi admits hybrid drives aren't all that, bag of chips
Current capacity falls short of expectations
The concept of so-called hybrid hard drives created buzz in the storage world from the moment Microsoft opened its mouth about them back in 2004.
Disk vendors would add banks of NAND Flash chips in their hard drives to act as large scale cache memory. These new "hybrid drives" would speed the time data takes to get off the drive and into the RAM, thusly cutting power consumption, boot times, and boosting performance.
So many promises. We were so young, and so willing to believe.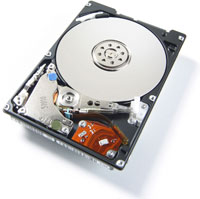 But here we are three years later and wondering if it wasn't just pillow talk. Oh sure, if you look hard enough you can find hybrid drives on store shelves, but the performance difference isn't worth getting excited over. The power bill is about the same and Windows still takes approximately three and a half dillion minutes to boot up.
You aren't alone in your despondency. Richard New, Hitachi Storage's director of research admits the drives on the market now are a bit of a disappointment. He dished to CNET at Diskcon 2007 in Santa Clara.
"The initial versions haven't delivered the performance consumers expected," New said. The solution could be cramming more Flash capacity into the hybrid drives, he added. The current 256MB of memory needs to be bumped up to about 4GB to deliver on parturient promises the drive makers originally cooed into our ears. Of course, that amount of Flash ain't exactly free, ya know.
Fujitsu said hybrid hard drives with a small cache will drop boot-up from 28 seconds with a standard drive to about 21 seconds, which isn't enough to get customers to shell out the extra cash.
But to be fair, seven seconds is far enough away, according to international pop artist Youssou N'Dour. ®