Portable mixing set for DJs
Scratch, slide and fade wherever you are
The mobile revolution has already taken most workplaces by storm, perhaps with the exception of DJing. Thankfully, manufacturer Hercules claims to have created the world's first handheld wireless DJing controller that allows upcoming Pete Tong's and Fat Boy Slim's to serve up freshly carved tunes from the comfort of their sofas.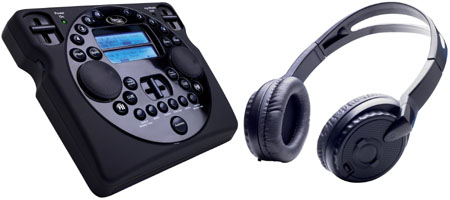 Mobile DJ: Mixing on the move
The kit, dubbed Mobile DJ, comprises of a pair of wireless headphones and a wireless controller. A receiver then plugs into the DJ's PC or laptop USB drive to receive signals from the controller, at up to a distance of around 20 meters. A bespoke piece of DJ software is also included to help DJs mix MP3, WMA or WAV files.
The controller measures 17 x 15 x 3cm and includes all the bells and whistles any DJ would expect, such as a cross fader, pitch slider, synch buttons and even an auto mix facility. Sound effects, like handclaps, echoes and loops, are also included and two displays built into the controller mean DJs will be able to see which two tracks are cued up.
It's only compatible with Windows XP or Vista, so Mac-based DJs are still tied to their traditional decks for the time being. The Mobile DJ will be available at the end of October for £80 (€105/$160).