The sarcastic TV
Harassment while you watch
A TV that responds to your actions is one of those gadgets you never knew you needed, but which you won't be able to live without once you've seen it. The Segnity TV is just that, a TV that shouts out witty one-liners each time you turn up the volume or switch channels.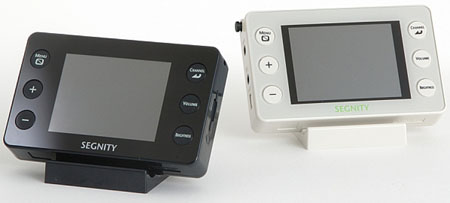 The Segnity: Sarcasm is the lowest form of wit, unless it's from a TV
The 2.7in TFT QVGA screen from manufacturer E-Revolution comes pre-programmed with a range of 'modes', such as polite and sarcastic, which define how it responds to your various actions. For example, if you try to turn it off then it will say, "Leaving already?" and if you turn up the volume then it will say "Noisy aren't you?"
While such 'useful' features may be a strong selling point, the device could actually be an equally useful TV-on-the-go. It measures 6.1 by 9.9 by 2.2cm and includes various short-cut keys on its front fascia, such as for channel selection.
It can run for three hours on four AAA batteries and can also be charged through a USB port. A docking station is also included, presumably so you can sit back and let the sarcasm roll in.
The bad news is that it's only due to go on sale in Japan in the coming weeks, where it will retail for around ¥12,800 (£55/€70/$110). That's a pity, isn't it?