Scots tell ET to eff off
Further giant profanity merriment
ET would probably do well to steer clear of Scotland, where he will evidently receive the sort of welcome previously enjoyed only by visiting England football supporters. Why? Well, earlier this year, our chums north of the border discovered the popular rural pastime of giant cornfield profanities (as exemplified by this shocker), and promptly dumped an enormous poo in an Edinburgh field.
In fact, the city seems to be the epicentre of Scottish cereal-based big swearing, because a short distance west we now find this outrage: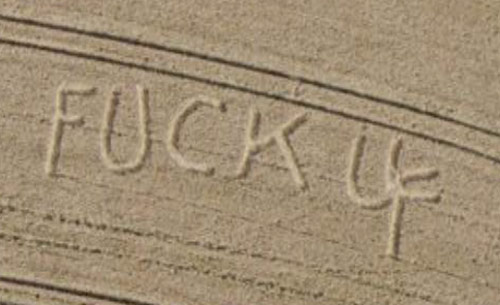 A quick examination of the scene of the übercussing reveals an earlier aborted attempt which got little further than the "F". This leads us to suspect the wags responsible may have taken a pint or two of heavy before getting busy with their sickles.
Nonetheless, it's a pretty creditable effort. Extraterrestrials consider yourselves warned. ®
Bootnote
Thanks to Adam McCormack for the tip-off. Those among you without Google Earth can cop an eyeful here.