TwinMos MiniBoom for iPods everywhere
Dock, listen, sleep and wake
Perhaps TwinMos felt its earlier attempt at an iPod docking station, the Boom 1, was a little heavy-handed. Its created new model that's not only smaller but also includes more features than its predecessor.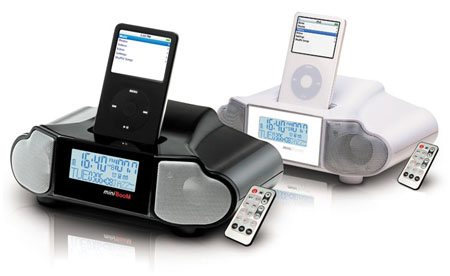 TwinMos' MiniBoom: an improvement on earlier models?
The aptly named TwinMos MiniBoom is an iPod-centric device that docks most versions of Apple's music gadget into a bay on its top surface, but which also has a line-in jack to accommodate any other MP3 player.
Since its dual speakers only pump out a measly 2W each, we're glad to see that a meatier, 15W sub-woofer is built into the MiniBoom's base. A multi-function remote control has been thrown in too.
The MiniBoom gives users a wider range of non-iPod functions than the Boom 1 did, such as a digital FM tuner that features ten pre-sets for quick access to your favourite annoying DJs. It also has a selection of alarm and sleep modes, and a calendar. The addition of an LCD display is a nice feature, helping you to see song titles and radio frequencies, as you tap your feet in time to the music.
The TwinMos MiniBoom is available now for £80 (€65/$120), but you may want to wait until October when the manufacturer will release a DAB-enabled version for £100 (€130/$200).