Iraq fiasco creeps into NSA surveillance controversy
Congress to lick Bush at last?
McConnell, Iraqi surveillance and the 4th Amendment
McConnell testified on Wednesday before the House Intelligence Committee, and when pressed, claimed that fewer than 100 Americans had become targets of surveillance as a result of warrantless wiretapping on foreign targets. More revealingly, he admitted that the new law is as much about establishing the constitutional principle that such surveillance was never covered by the 4th Amendment in the first place as it is that such surveillance is a national security necessity.
McConnell was asked about allegations that the FISA requirements had led to a twelve-hour delay in getting a warrant for a communications tap on Iraqi insurgents, and gave this telling response:
Now, when we've talked about this before, people frequently say, 'Well, wait a minute. Why don't you just do emergency FISA?' Well, that is the point. We are extending Fourth Amendment rights to a terrorist foreigner foreign country who's captured US soldiers. And we're now going through a process to produce probable cause that we would have authority to go after these terrorists.

And then people say, 'Well, why don't you just go? You got emergency authorization.' Well, emergency authorization doesn't mean you don't go through the process, which is probable cause. So some analyst has got to do it and some official's got to sign it out. And it has to come to either me or some other official. Then it goes to the attorney general. Then it goes to FISA court.
The 4th Amendment thus is more than mere collateral damage in the so-called "war on terror": it is a specific, determined target of that activity.
The attempt to connect the dots between Iraq and some hypothetical necessity for warrantless wiretapping authority strains credulity by any measure, and the attempt only turned the focus back to more obvious administration issues in Iraq - Blackwater, for example, which made it back into the news, and back onto the streets of Iraq.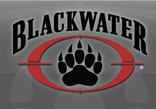 I don't need a rocketlauncher, pal
Iraqi Prime Minister Nouri al-Maliki fingered Blackwater for a jail break that occurred at the end of last year, in which an Iraqi official accused of embezzling $2.5 bil of American aid originally earmarked for rebuilding Iraq's electricity infrastructure, Electricity Minister Ahyam al Samarrai, escaped from jail while awaiting sentencing. Reportedly living in the US now, no one in the administration seems overly concerned about this particular war profiteer.
As McClatchy News reported Wednesday,
Until now, Iraqi officials hadn't named the private security company that they believe helped Samarrai, the only Iraqi cabinet official convicted of corruption, to escape from a jail that was overseen jointly by U.S. and Iraqi guards. He subsequently was spirited out of the country and is believed to be living in the United States.

The US State Department made note of his escape in its December report on developments in Iraq, saying that "Iraq's Commission on Public Integrity (CPI) said they believed he fled with the help of members of a private security company."

But the accusation that Blackwater, which earned at least $240m in 2005 from contracts to provide security to US officials in Baghdad, assisted in his escape raises questions about what American officials might have known about the breakout.

A US Embassy spokeswoman couldn't be reached for comment.
As if all that were not enough, as this went to press the AP broke a story on Pentagon and State Department probes into whether or not Blackwater illegally smuggled weapons into Iraq, at least some of which were then sold on the black market and ended up in the hands of Kurdish nationalists in Turkey.
Congressional hearings this week also revealed criminal investigations into $6 bil worth of contracts in Iraq and Afghanistan, reports of forced labor utilized by a Kuwaiti subcontractor in the construction of the American Embassy, and allegations of cover-ups of fraud and waste in Iraq by the State Department's Inspector General, the man assigned the task of ferreting out those very same criminal activities.
Bravo, Bushies.®
Burke Hansen, attorney at large, heads a San Francisco law office