Sealand seeks satellite and movie deals
Reality-challenged communications hub in works?
That tiny speck of sovereign delusion known as Sealand will finally reclaim its former glory as a platform for pirate radio, the fantastical micronation hinted this week on its website, and Mike Newell, of Donnie Brasco fame, has agreed to direct a movie based on those very same pirate radio origins.
Full circle, and to a screen near you. Assuming it's all true, it makes for quite a week for a non-existent nation with only a handful of residents.
That announcement comes on the heels of one the prior week that revealed that the former British military platform is currently in negotiations with unnamed Moscow venture capitalists to launch an independent Sealand communications satellite. Such a satellite would allow Sealand unfettered access to the internet and other broadcast media, and provide the opportunity for a media hub truly independent of any international legal constraints. Well, that's the idea at least.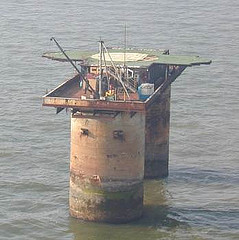 Living the dream, Mad Max-style:
It's yours for eight figures
PirateBay considered Sealand as a potential base of operations, and a communications satellite, if true, would suddenly make Sealand a potential thorn in the side of the international community, rather than just a harmless curiosity. The possibilities are impressive: illicit file sharing, and the transmission of government-banned radical material from the political to the pornographic, are only some of the potential uses of an off-the-grid communications satellite. Of course, the UK would never allow that to happen.
For those unfamiliar with tiny Sealand, it resembles nothing so much as a helicopter landing pad perched in the middle of the sea. Abandoned by the British military in what were then international waters, pirate radio broadcasters in the early sixties took control of the platform, only to be kicked off by Roy Bates, who set up his own pirate station, Radio Essex.
Of course, almost everything about Sealand requires the suspension of disbelief.
"We're going to bring back Pirate Radio big time," said Stuart Turner - that's Lord (£19.99 online) Stuart of Sealand, people, formerly of Virgin Radio - back on 25 March. "We're going back to the roots of Radio Essex when listening to the radio was actually a way of life!"
That station has yet to materialise, at least online, although it could well have fallen victim to the forces that have put the brakes on Sealand's other internet venture, Sealandcasino.com. The satellite deal - ahem, assuming the negotiations are serious, of course, and more than just a publicity stunt for the for-sale non-nation - would enable both of those projects to move forward, and in theory provide a steady stream of hard currency from any sketchy character or nation that could use satellite bandwith. We can dream, can't we?
The Mike Newell movie based on the life of Prince Roy is tentatively scheduled for release in June 2008. ®
Burke Hansen, attorney at large, heads a San Francisco law office