This article is more than 1 year old
Creative Commons sued for deception
Hey! What's wrong with our Sharecropping licence?
A Texan family has been handed a harsh lesson in what the Creative Commons "movement" really means for creatives who use its licences.
Filmmaker Damon Chang uploaded a family photograph of his young niece Alison to Flickr, only to discover weeks later that it was being used by Virgin Mobile in an expensive advertising campaign. Neither Alison Chang nor her youth counsellor Justin Wong, who took the photograph, have received compensation for the use of the image - having handed over the rights without realising it. Damon Chang used a licence which permits commercial reuse - and even derivative works to be made - without payment or permission of the photographer: Merely a credit will do to satisfy the terms of the licence.
Both Changs believe the use of the photograph was insulting and demeaning, as Alison - a minor - became known as the "dump your pen friend girl". And after taking legal advice, the Chang family is now suing Virgin Mobile USA and the Creative Common Corporation.
Virgin hoovered up over 100 "user generated" images for its ad campaign - saving itself a fortune. The lawsuit accuses Virgin of invasion of privacy, libel and breach of contract, but it's the section of the lawsuit that names and shames Creative Commons that promises to have lasting consequences for "Web 2.0" and "user generated content".
"Creative Commons owned a duty to Justin Wong," argue the Chang family in the complaint, but "breached this duty by failing, among other things, to adequately educate and warn him... of the meaning of commercial use and the ramifications and effects of entering into a licence allowing such use."
Virgin had said it believes "...the spirit of the Creative Commons agreement matches Virgin's philosophy."
(A philosophy of getting stuff for free, is presumably what they mean.)
In fact, in all but one detail, this is the "Creative Commons" working exactly as it should: Making it easier for images to be re-used, without permission or compensation to the creator. In the parallel economy of "Web 2.0", sharecropping is the norm. Virgin goofed in only one respect - by failing to credit Justin Wong, which it could have done so in tiny print. Otherwise, it got the free ride it wanted, thanks to the Creative Commons.
In this enthralling thread on Flickr (spare five minutes if you can to read it) - Alison discovers, to her horror, that she's famous - and lawyers rally round to help. Here's how it starts: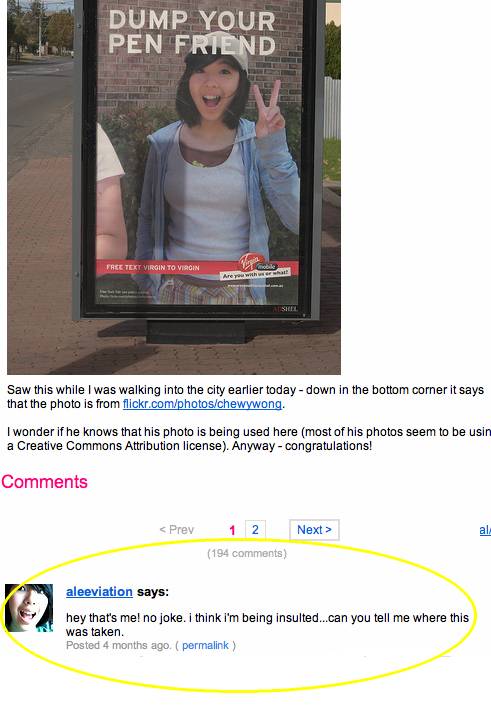 Alison Chang discovers how her image has been used. Surely a defining moment in the history of "user generated content"?
(Damon Chang explains his motivation at length in this message, further down the page.)
"People allowing commercial usage of their photography on Flickr are suckers being taken advantage of," is the advice from one of several professionals who pitched in.
"With all the money [Virgin Mobile] saved on photography through this campaign, they will probably break even on fees for the attorneys they keep on regular retainer anyway."