This article is more than 1 year old
Chuck Norris to do battle in El Reg Arena of Death
And his opponent?
It's official: embearded death machine Chuck Norris - legendarily described as "the meanest whup-ass mutha west of the Mississippi" - will shortly enter the blood-spattered ring of Vulture Central's Arena of Death to challenge for the "Hardest Man in on the Planet - Ever!" title; 15 rounds of senseless violence in which no quarter is asked, nor given, and those who ultimately fail to come up to scratch are consigned to the crumpled bodybag of history.
Norris finally secured 32 per cent of the reader vote, with a roundhouse-kicking 2856 Disciples of Chuck registering their support. He will, let history record, be squaring up to the Shaolin Temple kung fu monks who secured 18 per cent, or 1616 votes.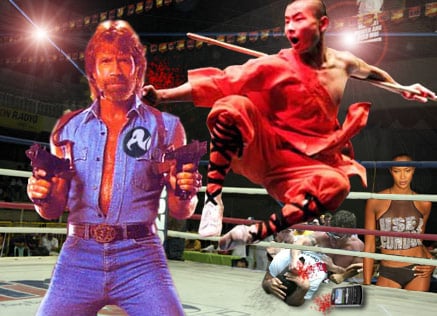 Third up was battling Streatham clotheshorse Naomi Campbell on a creditable 11 per cent (930). This performance prompted us to give her a call to see if she'd like to tag with the kung fu monks, but she simply told us to "Fuck off and respect my privacy".
Well, we think it was Ms Campbell, but it may have been an assistant who has not yet succumbed to her legendary diamond-encrusted PDA ninja assault workouts.
Either way, it's a bit of a shame, because we quite fancied the idea of the world's Supermodel of Color™ giving Norris a shock lesson in how they deliver a Blackberry beating down the rough end of Saarf London.
Back in the Arena of Death, meanwhile, our money's on the kung fu monks on a points decision after the full 12. Let the games begin. ®