2007's Top Products We've already reviewed Apple's iPhone, so why are we taking another look? There are several reasons. First, a different reviewer means a different opinion. That applies to any product, of course, but Apple's claim that the iPhone is "revolutionary" perhaps justifies an alternative appraisal.
Second, the first review was of a device limited by the shackles of AT&T's two-year subscription requirement. With an unlocked model, this reviewer is much less restricted. Thirdly - and this is the killer, really - having used the iPhone as my sole communications device for a time, I think it's bloody marvelous and I'd like to explain why.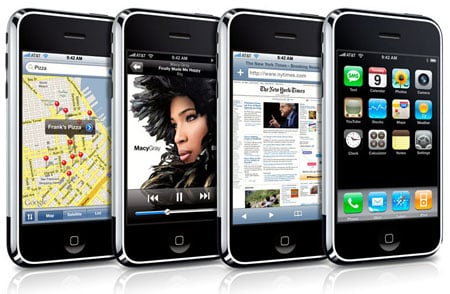 Apple's iPhone: four devices and more... in one
I bought the iPhone to explore the unlocking process, and because I was in the US and flushed with the joy of a 2:1 dollar to sterling exchange rate. More money than sense? Well possibly, but I went ahead, promised the young lass in the AppleStore I would only be using the handset in the States - the pommy accent a bit of a giveaway, clearly - and took it back to my hotel room to unlock.
I've talked about this process already - you can read about it here - so I won't go over it again. Suffice it to say, half an hour later I had a working iPhone with - ironically - an O2 SIM loaded. Ironically - again - I was roaming via the AT&T network.
The first thing to do was load up some content and sync all my calendars, contacts, browser bookmarks and so on. Enter iTunes, which provides the relevant functionality. I use a Mac predominantly, so Mac OS X's iCal, Address Book and Safari apps were already well-stocked with appropriate data, and I'd taken the liberty to prepare iPod-friendly versions of some videos I own, just in case.
Getting all this information, along with some music and photos, was easy, but it could have been easier still. Synchronising PIM data, no problem, but the other material has to be copied using a sync process to. With my iPod Nano, I'm used to grabbing songs and albums and dragging them, within iTunes, over to the iPod icon. That doesn't work with the iPhone - you have to set up a playlist into which you drag the songs you want and then sync. This is very irritating, especially if you like to move your songs and videos around frequently.
I had no Wi-Fi in my hotel room, but San Francisco's Moscone centre did have a WLAN, courtesy of the Intel Developer Forum, the reason for my visit. I popped over and the iPhone quickly popped up a list of networks for me to choose from, which I did and had almost immediate access to a fast internet connection.


Apple's iPhone: skinny
Web connectivity is what the iPhone is really all about. If the unlocking process hadn't worked - or I inadvertently apply an update that reapplies the lock - at least I'd have not only a decent iPod but also a very smart web device.
Similar topics