Conservatives cock-up over pound again
Upstanding Blue blog promises hard line
---
NSFW A Tory blog has been penetrated by an act of classic web waggery after it leeched bandwidth via a picture used to illustrate a posting about party fees.
There was something of an uprising among members last year, with some claiming they were being shafted by the new pricing structure.
The Blaby Conservative Future site, run by young Tories in Leicestershire, unleashed this entry in June 2006. They used a picture sourced at a personal homepage site, and rather than downloading and hosting the image file lazily linked it.
Apparently, the owner noticed yesterday, and didn't appreciate the Conservatives sucking on his bandwidth. He decided to pump their Blogger page with a different image, as exposed below. It comes from top Photoshop humourists B3ta.com. Eagle-eyed readers will notice the words "vote Labour" underneath the coin.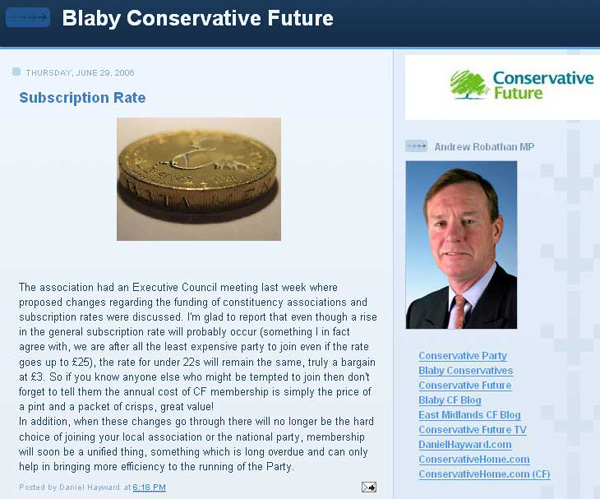 Once the switcheroo was made, some fine internet gagsmiths piled into the comments section (we can confirm it is not moderated, and open to all comers). Our favourites include:
I fail to see how such a small rise in subscriptions can make a vas deferens to the running of Conservative Future.

I agree, we should suck it up for the greater good of the Party.

Great to see some of that true Tory spunk coming back into politics. Well done.
And so it goes. Seminal stuff. The man pictured next to the unpalatable coin is Andrew Robathan MP, the parliamentary party's deputy chief whip.
At time of writing, the image and the post are still being paraded for all to see. Get it before they pull it off. ®
Update
After twigging the rouse, and crying a salty tear, Blaby Conservative Future has closed its blog to all but invited readers. Feel free to pun in our comments section instead.