This article is more than 1 year old
Jabra shows 'world first' Bluteooth speaker-headphone combo
Gulls in flight may have stimulated sportscar door development, but they aren't renowned for inspiring consumer products. Until now. Jabra has taken note and developed a pair of Bluetooth headphones that also unfold into a pair of speakers.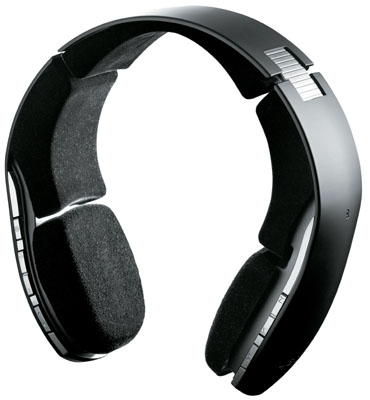 Jabra's BT8030: first, a pair of headphones...
The BT8030 works with any Bluetooth-compatible music device, be it a mobile phone, computer or MP3 player, and allows users to wear the chunky cans as a pair of headphones to both listen to music and to take calls. There's an on-board microphone, and controls for handling calls and selecting songs are built into the device's sides.


...and then a speaker set
Users can unfold the headphones, opening them out to form a stereo party speaker. It's all made possible by the double-hinged design, which also incorporates an adjuster for different head sizes
Jabra claimed the device will provide up to 32 hours of music playback in headphone mode, falling to 26 hours in speaker mode.
The company is keeping mum on the BT8030's other details, but Jabra said it plans to get the product into shops by the end of the year, when it will retail for around £170 (€242/$342).