The basic model is the GeForce 7050/nForce 610i which is limited to a 1066MHz frontside bus, 667MHz DDR 2 memory and an analogue output on the integrated graphics. Biostar will sell this chipset in the GF7050V-M7 at £37 inc. VAT.
Then we have the GeForce 7100/nForce 630i which raises the stakes with a 1333MHz FSB, 800MHz DDR2 memory, DVI output, HDMI with HDCP, RAID and Gigabit Ethernet. Biostar will charge you £55 for its TF7100P-M7, or you can pay an extra £5 for the TF7150U-M7, which raises the speed of the graphics core from 600MHz to a vague "greater than 600MHz".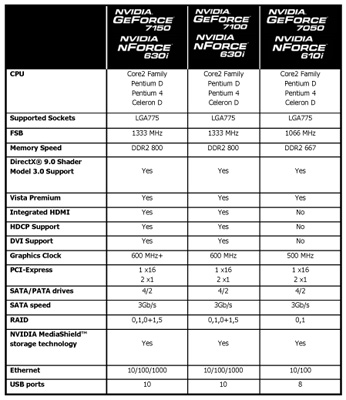 The layout of the TF7150U-M7 is standard fare for a micro-ATX model although the I/O panel is dominated by the graphics outputs. There's a single PS/2 for your keyboard, plus DVI, HDMI and VGA outputs, four USB 2.0 ports, Gigabit Ethernet and six mini jacks for the Realtek ALC888 HD audio.
You'll need one USB port for your mouse, which leaves only three ports available for peripherals, so you'll be well advised to select a case that has front-mounted USB ports that can take advantage of the USB headers on the board to provide some more ports.
The passive cooler for the chipset sits squarely in the centre of the board equidistant from the CPU socket, the two DDR 2 memory slots that support 800MHz memory in single-channel mode and the PCI Express x16 graphics slot. There's plenty of space around the CPU socket thanks to the use of solid capacitors, chokes and MOSFETs. However, Biostar has located the ATX-12V connector near the chipset instead of the top edge of the board.
The BIOS contains a Smart Fan Calibration function that is supposed to set a starting speed for the CPU and system fans but the calibration phase didn't appear to have any effect. This was our first indication that all was not well, and we also had our doubts about the displayed CPU temperature of 10°C. You can allocate up to 256MB of memory to the integrated graphics but this is fixed memory so our 2GB of RAM appeared as 1.75GB in System Properties.
There are more irritations in store as the installation CD detects which drivers you need but doesn't offer a simple, one-click installer. Instead, you're forced to install one after the other manually and, worse, the ones you've already installed aren't listed as such. It's understandable that the chipset, USB and display drivers are all separate but it was something of a surprise to see both northbridge and southbridge system management drivers, so that's two sets of drivers for a single chip.