Once we'd installed the drivers the CPU fan continued to roar along at full speed so we tried Biostar's Fan Control for T utility, which looks like a Windows version of the fan control in the BIOS. However, it too didn't make any noticeable difference.
It was hard to get much information about the motherboard and graphics as Nvidia's nTune 5 utility didn't recognise the chipset, and the third-party CPU-Z tool also kept its cards close to its chest. However, 3DMark06 made it clear that the GeForce 7100 graphics fully supports DirectX 9.0c and Shader Model 3.
We tested the Biostar back-to-back with an Abit F-190HD mobo, which sports an AMD ATI Radeon X1250 graphics core. This is based on Radeon X700 technology, so it only supports Shader Model 2.0, and CPU support tops out at a 1066MHz FSB. However, the performance of the competing chipsets is very similar.
PCMark05 Benchmark Results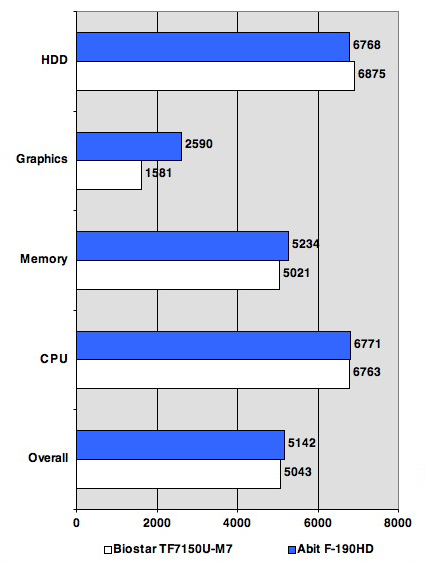 Longer bars are better
What Nvidia has added is a small but important step up in graphics quality along with digital outputs for the integrated graphics that seem ideal for Media Center duties.