If redesigns are the route to perfection, then by rights the Slim Bluetooth Keypad should be well on its way. Originally designed as a portable infrared keypad as part of an tie-up between manufacturer Freedom Technology and O2, Freedom has since updated the device to Bluetooth.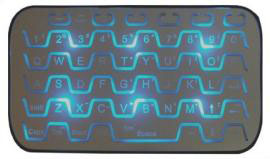 Freedom's Slim: Razr inspired?
Compatible with most smartphones and PDAs, the Slim lets users enter information more easily than they might with a microkeyboard, phone pad or stylus, Freedom claims.
Sporting a metallic front backlit in blue, the Qwerty keyboard has 54 keys in total, some of which operate as mobile phone shortcuts. It measures 10.2 x 5.8 x 1.0cm and weighs just 46g.
Register Hardware tried the Slim at a London event today. It isn't touch-sensitive so the physical switches beneath each key provide a little feedback, although not as much as a traditional desktop keyboard. The Slim comes in a handy size and its lightweight design means it fits easily into a shirt pocket.
Freedom claims the Slim operates for about four hours when in continuous use, but then who spends four hours endlessly typing into their PDA? Its stand-by time is around 100 hours and the internal battery can also be recharged by mini USB.
The Slim Bluetooth Keypad will be available in Europe and the US from October, retailing for £40 in the UK, €60 across the rest of Europe and $60 in the States.