This article is more than 1 year old
US Navy to remodel Hitler's San Diego bunker
Plans denazification of swastika-shaped barracks
The powers that be have moved with snail-like speed to address the rather embarrassing issue of Hitler's San Diego bunker, spotted by El Reg readers back in 2005: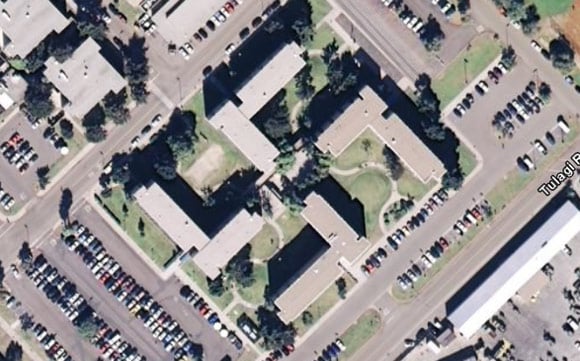 The offending structure can be found at Bougainville Road, US Navy Exchange, San Diego. The conspiracy theorists among you will doubtless hear the distant sound of black helicopters when we reveal that the Navy has only now admitted it "noted the buildings' shape after the groundbreaking in 1967 but decided against changing it at the time because it wasn't obvious from the ground".
Hmmm. Once satellite images had fingered where the Führer ended up after the Third Reich went titsup, the pressure on the Navy to act steadily mounted. Among the heavyweight support for the building's denazification was Dave vonKleist, host of Missouri-based radio-talk show The Power Hour who told the LA Times he "wrote to military officials calling for action".
Well, it seems to have worked, since the Navy will spend up to $600k to "change the walkways, landscaping and rooftop solar panels of the four L-shaped barracks". Scott Sutherland, deputy public affairs officer for Navy Region Southwest, confirmed: "We don't want to be associated with something as symbolic and hateful as a swastika."
Quite right too; in which case, when it's finished remodelling Hitler's San Diego pad, the Navy might want to think about shifting a couple of runways down at Denver International Airport: