The fresh Xeon-based servers from Sun mark the company's most muscular play to date in the x86 realm. The four-socket 2U X4450, in particular, has Sun pushing the equivalent of a midrange SMP down into the heart of the so-called "commodity" market. This move plays well with Sun's historic strengths in the SMP (symmetric multi-processing) arena and supports Sun's "R&D will win" mantra.
Since entering the x86 market, Sun has more or less gone through two generations of hardware. Initially, it relied on systems designed by then Opteron-based server start-up Newisys. Sun tried to learn from its mistakes with this somewhat generic gear by later rolling out a fresh line of Opteron-based systems.
Sun is officially into its third attempt at blade servers with some pretty flashy gear, including bulked up systems aimed at corporate data centers, thinner gear still targeted at businesses and then systems that lean more toward the high performance computing market. Sun's new X4450 and 1U X4150 servers bring a similar level of revamped thinking to the meatiest part of the x86 market.
Without question, Sun now has the most attractive 2U server for those customers not afraid to spend a great deal on a server. That's not to say Sun's gear is that much more expensive than rivals. Instead, we're talking about a 2U unit that can hold four of Intel's highest-end, four-core chips and 32 sticks of FB-DIMMs. The tray of memory alone would prove a more than daunting expense for the average customer.
The not so average customer, however, should flock to this unit, since it allows you to pack as much horsepower, memory, storage and networking in half as much space as similar systems from HP (DL580 G5), IBM (X3950 M2) and Dell (PowerEdge 6850). Yes, Tyan already ships a Barcelona (four-core Opteron)-ready unit that takes up 2U, and Supermicro has a similar motherboard available, but your typical big business is going to stick with a Tier 1 vendor. In addition, you'll find that Sun's systems typically have more memory, storage and networking options along with redundant everything and proper RAID that the lower rung suppliers have yet to match.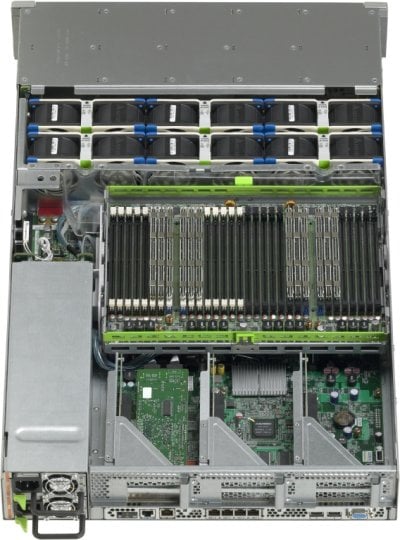 The X4450
The two-socket X4150 proves impressive as well with its support for 16 DIMMs and eight disk drives, although it's less of a groundbreaking unit than Sun's X4450.
The company portrays both boxes as sort of Swiss Army knives for the data center. You can do a low-end, cheaper configuration for a web server on the X4150 or go whole hog with the X4450 and run SAP or Oracle.
According to server chief John Fowler, Sun built this gear hoping some customers would decide to standardize on the systems and vary their configurations based on software workloads. This should, in theory, make life easier on the customer by having only a couple of SKUs to monitor.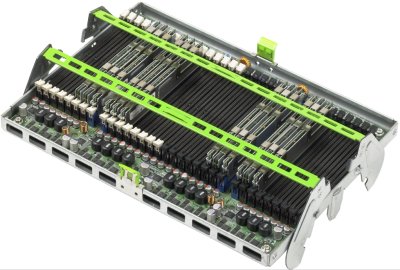 Fully stacked with memory
Sun expects to ship similar systems by the fourth quarter with AMD's new Barcelona version of Opteron.
On the software front, Sun has expanded beyond Solaris and Linux (RHEL and SLES) to sell and support Windows from Microsoft and ESX Server from VMware.
On Tuesday, Sun unveiled the new hardware in front of reporters at its Menlo Park campus with Fowler and – gasp – Intel's server chip kingpin Pat Gelsinger on hand for propaganda purposes. Gelsinger spent "seven years pushing to get Sun and Intel together," he said, and the companies finally agreed seven months ago to unite for Solaris on Xeon work.
Looking forward, Sun remains skeptical about the embedded hypervisor idea being pushed by both VMware and XenSource. There are USB slots on the motherboards of Sun's new gear should it choose to offer an embedded hypervisor. Until then, however, Sun will stick with booting software over the network.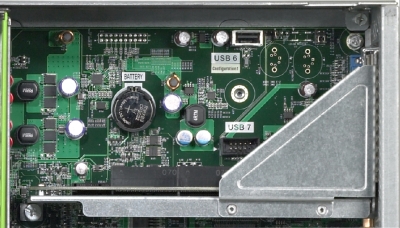 USB Plug
Ultimately, the X4450 and its little brother are just more boxes, and hardware on its own remains a small part of the serious x86 server selling game. HP's much respected ProLiant brand should buy it plenty of time to catch up with Sun, if the vendor isn't already close to shipping something similar. The same goes for IBM and even Dell with certain customers.
In addition, the X4450 really shines, as mentioned, for those customers with deep enough pockets to take advantage of all it offers.
The system, however, reminds us of what transpired with HP's C-Class blade chassis. You saw an x86 vendor flex its engineering roots and craft something much admired by customers.
For Sun, the X4450 could be a bigger deal in that gives burly x86 customers a reason to check out what Sun has to offer across the board. For a company still just ramping up its x86 business, that's a pretty big deal. ®
Similar topics