Those among you who remember when it was all fields round here may also recall the famous January 1973 cover of National Lampoon which carried a pic of someone holding a gun to the head of a rather worried looking mutt and the headline "If You Don't Buy This Magazine, We'll Kill This Dog".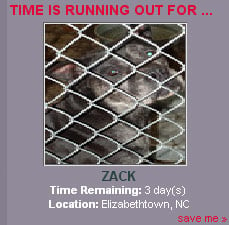 Well, a US "nonprofit national shelter outreach program" has decided to adopt the same no-nonsense approach to selling its wares - but in this case it's for real.
Yes indeed, cue heartstring-tugging stuff down at dogsindanger.com, where visitors are greeted by a snap of some wretched canine and a reminder of just how long he or she has left before a last walk to the euthanisia room.
The group behind the hard sell is The Buddy Fund, which hopes that "highlighting the fact many unadopted dogs are euthanized by shelters with scarce space will spur people to take them in".
The fund's Alex Aliksanyan told Reuters: "This is happening ... in our country, in our back yard. It's been kept underneath a blanket of niceness and sweetness. So we said, 'Let's put the truth in front of the consumer - either do something about it, or at least realize you're a partner.'"
Aliksanyan stressed: "It's not a happy site with puppies running around. It's not meant to be that. We're taking it the other way around. We're saying these pets are going to die. Look at their faces."
And in case the pleading eyes of the Death Row inmates don't fully do the trick, dogsindanger.com throws in a continuously updated "As you are reading this x dogs have been killed" tally. That's a nationwide stat, of course, but we're pleased to announce that The Buddy Fund's animals who do suffer the "dead dawg walking" ordeal are at least afforded a suitable memorial. ®