NASA is to carry out a contest between human and robotic surgeons in conditions of zero gravity this week. Competing fleshy and machine medics are even now carrying out a variety of procedures aboard C-9 military cargo aircraft soaring in parabolic arcs high above the Gulf of Mexico.
NASA is interested in the robo-surgeon technology as it could one day be used to treat astronauts who had been injured or fallen ill on missions, without the need to include a Dr McCoy style spacegoing sickbay and surgical team.
However, the doc-droid gear was originally developed under military auspices, with a view to treating battle casualties far from established medical facilities. It was trialled earlier this year in NASA's undersea space simulator lab off the Florida coast, too.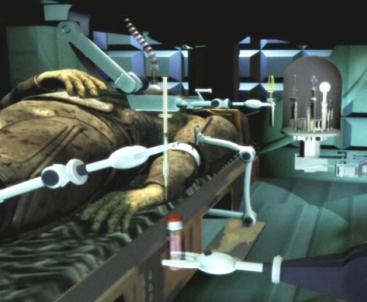 Artist's conception of a robodoc at work.
Nasty case of zombie plague there.
In addition to checking that the robot can use steel to heal in microgravity, its designers also want to see if it can handle extra gees and random motion from turbulence. They reckon this could be handy in earthbound applications, perhaps allowing surgery to be carried out safely aboard aircraft in flight - or even trucks on bumpy roads.
The M-7 automated surgeon involved in the trials is made by SRI International, an independent nonprofit research and development organisation.
"SRI is at the forefront of medical robotics technology that can benefit humans in dynamic, moving environments," according to Thomas Low, boss of SRI's Medical Devices and Robotics programme.
"In previous experiments, SRI successfully demonstrated how robots can be manipulated remotely and set-up with minimal training. We are now extending that technology to movement and weightlessness, critical elements of any space travel program."
The idea is not that the M-7 itself can do surgery, but that it can offer a remote human the ability to operate just as if he was working on a patient in a motionless hospital theatre, rather than one strapped down in a vibrating medevac chopper or transport plane (or in NASA's case, a spacecraft which might be in free fall, under thrust or even tumbling). The machinery is supposed to iron out the inputs of the environment.
During this week's trials, manual and M-7 surgical teams will make incisions in six-inch squares of simulated human skin and then suture them up again. They'll also try to delicately slice the skin without harming the pretend "fascia" layer - the fibrous net which separates real human skin from innards. While this is going on, the plane will be soaring and plunging rollercoaster-style between 24,000 and 32,000 feet.
And may the best flesh-cutter win. SRI's release is here, and coverage from Scientific American here. ®
Sponsored: Ransomware has gone nuclear