Nokia Beta Labs has launched Conversation, a free application for S60 third edition handsets that provides an additional tab to your contacts application, showing conversations you're having and with whom.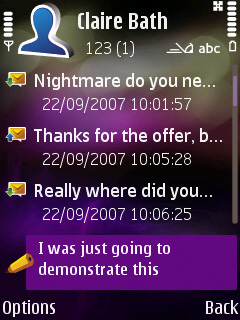 The ability to see one's messages organised by person, rather than date and time, is something Treo and iPhone users have enjoyed, and now the rest of us can see who we've been talking to, as well as when we spoke to them.
You can limit the display to messages related to people in your contacts book, or sort messages by time or person, as well as continuing the conversation from within the application.
But what's really interesting is the speed with which a feature like this can be implemented and integrated in response to a competitive threat. iPhone users have been raving about threaded messaging, so Nokia responds by adding the feature to its devices.
Maintaining a development environment and community is expensive, but it is in the speed with which features can be developed and deployed that the investment pays off. ®
Sponsored: Practical tips for Office 365 tenant-to-tenant migration