Pressing the Menu option with the softkey, you're taken into a clearly labelled icon-based main menu selection. A choice of themes are available, to suit the way you want to view your options. One of them, Espresso, adds an icon carousel at the bottom of the list so the highlighted option is shown larger on the display. Using the navigation joypad to select and click an option and you're presented with a selection of options listed next to numbers. You can scroll up and down and select using the joypad, or simply select the appropriate number on the keypad for quicker access. It's straightforward, allowing you to make changes quickly and simply.
There are plenty of configuration options under each menu option, plus a tree of sub-menus. These allow you to customise the phone considerably, from the usual ringtones and displays to browser settings and slider options. The way menus are viewed - with or without drop down options displayed for instance - can be configured too, and you can set your own shortcuts to favourite features for a My Menu option, accessed in one-click form the joypad.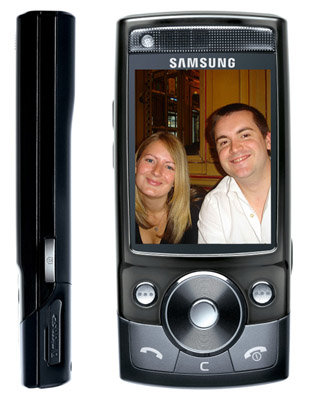 Samsung's G600: solid feel
Samsung is understandably making a big play of the imaging appeal of the G600 - five-megapixel mobiles are still extremely rare in Europe, albeit with new Sony Ericsson and LG models imminent - and the G600's maximum resolution of 2560 x 1920 pixels puts it up there snaps-wise with the Nokia N95 - granted, without the N95's quality Carl Zeiss-sourced lens.
A tap of a softkey pulls up a decent spread of digital camera control options that are familiar from previous Samsung phones. These range from picture size to white balance and ISO settings. The G600 has a useful macro setting for close ups that works effectively. The camera can be set to take multiple shots in quick succession, panoramic views - stitching three consecutive images together - or mosaic shots. A selection of effects can also be added, plus a few gimmicky frames.
You can also toggle swiftly to the G600's camcorder option – which records video in maximum 0.3Mp VGA (640 x 480) quality. Samsung provides an image editor function too for post-photography tweaking - another bit of gadgetry to play with for those not familiar with Photoshop.
The G600's autofocus locks on quickly enough, and there's only a slight delay for the image to be captured and processed. An on-board digital image stabiliser helps steady shots during the image processing, so there's less of the infuriating wobble-as-you-wait problems seen on some other higher-res cameraphones.
Taken at the G600's maximum resolution, images are impressively detailed and well exposed. Close ups too provide fine results, the macro doing its job admirably. Colours are a touch more subdued, however, than they were in comparable shots taken with a Nokia N95. The Nokia's pictures also looked a little more precise and lighting adjustment seemed more responsive. Overall, the G600's images are pleasing though.