Apple iPod Nano third-generation
Is video a feature too far...
Review Earlier this month, Apple announced the newest embodiments of various iPod lines. The new iPod, the Classic, doesn't look substantially different from its predecessor. The new Nano, which supersedes the second generation product is - on the other hand - a complete revamp.
What you'll notice straight away is its shape: it's a little shorter and much wider than its predecessor. Both the 4GB and 8GB configurations are identical in terms of dimensions - 6.9 x 5.2 x 0.7cm - so it is thinner than the older model, but at 49.2g, weighs a fraction more.
The reason for this change in design is a LCD: now at 2in with a 320 x 240 resolution, a 204 pixels per inch density and with an effective blue-white LED backlight.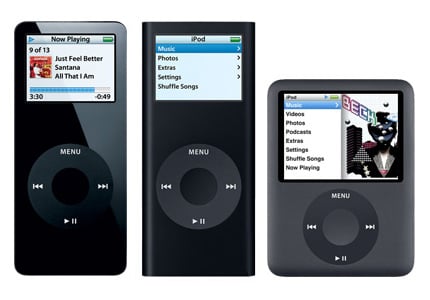 Apple's iPod Nano: old and new side by side
Much like the Classic, the Nano's casing is now covered in a tactile anodised aluminium shell, replacing the glossy, smooth finish sported by Nanos of old. Curiously, only the black iPod Nano doesn't have a white scroll wheel, but all of them are narrower than before. The player's corners are nicely rounded and it seems much more resistant to grubby fingerprints and scratches. Of course, only time will tell, as all it takes is a morning rush and a jacket pocket that also contains house keys, and you'll soon see how scratch-resistant your new Nano really is.
Here at Register Hardware we have a Speck ToughSkin covering our first-generation Nano because it was one of the very few iPod covers - and there are a lot around - that actually offered some protection for the display by way of a clear, plastic screen. We foresee one or two potential problems arising with future protective covers given the now small distance between the top of the scroll wheel and the bottom of the display.


Apple's iPod Nano: top and bottom
Despite the design overhaul, the Nano shell still looks and feels like two separate halves stuck together – granted quite securely. The coloured front curves around and makes up a little of the width; the rest – and the majority – is then once again made up of the silver metallic back. As before, the dock connector and the 3.5mm headphone jack are at the bottom of the player, but now so is the Hold switch.
The new increased width makes this possible, but the Hold sldier is considerably smaller and could present problems to those of use with bigger fingers. It's not going to make life any easier for case manufacturers either. It'll be interesting to see how they handle the move.