This article is more than 1 year old
Apple iPod Nano third-generation
Is video a feature too far...
More or less most of the major changes that have been made to the Nano are either aesthetic or related to the user interface - which are quite significant, granted - and the quality of playback remains relatively high. However, anyone who is serious about listening to music – especially in a noisy environment like a carriage on the London Undergound – will tell you that Apple's almost-iconic in-ear headphones add more to the background buzz for other commuters than providing any sort of harmonious happiness for the actual iPod owner.

The menu set up and jukebox-style Cover Flow
Of course, this is an issue for most folk in possession of an MP3 player, regardless of brand, and it can be resolved with an additional investment of high-quality headphones. It might be nice though to see some sort of equally eye-catching high-end acoustic accessory like this to accompany the iPod range.
The changes that have been made to the user interface are welcome. Borrowing from the iPhone, the colour menu now fills just the left-hand side the screen, with the right half devoted to graphics. The text is rendered in that familiar smooth, sans-serif, bold lettering
The images on the screen are context sensitive - move the cursor down the list and the respective image changes. Top of the menu is the 'Music' sub-menu, initially showing a bold 'No Music' icon and message, but it's replaced with a dynamic jukebox-style slideshow of album art once you copy over some tracks.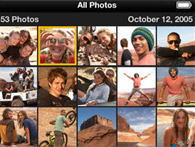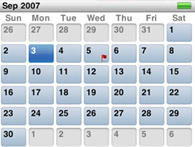 The new Nano UI features a photo slideshow and a revamped calendar
The UI is identical to that found in the iPod Classic: each album entry is presented with the thumbnail, the album's title in bold above the artist's name in plain grey text. Similarly, other listings are presented with this kind of subsidiary information. Select Genre, and each entry has the number of relevant artists and albums presented below it. Only the Composers and Artists menus don't follow the pattern.
For fear of further repeating the same explanation, feel free to refer back to our Classic review. But one area that provokes concern is the Nano's capability as a video player. The display is 4:3 ratio, placed inside of the 3:4 ratio case, in opposite orientation to allow for the scroll wheel.