Apple iPod Nano third-generation
Is video a feature too far...
If you play a widescreen format video on the Nano, you're going to get a letterbox image the size of a 16:9 postage stamp. So, cramming a 16:9 video inside an already tiny 4:3 screen, you'll either lose the sides if you play at full size, or get black bars, which will reduce the size of the overall picture.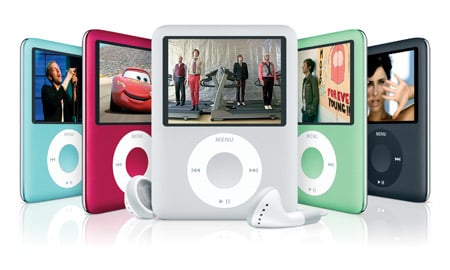 Apple's iPod Nano: available in five flavours
Still, you could argue that at least it does supports video - the previous ones didn't - and it's better to have that than not at all. And it does have a TV Out setting, although only with an optional-extra Apple AV cable.
Apple claims it takes about three hours to fully charge - 1.5-hour fast charge to 80 per cent capacity - which provides audio playback of up 24 hours and video playback of up to five hours - and it didn't fall short of this. But with any product in this day and age the battery life will inevitably diminish over time.
The 4GB version will set you back £99 of your hard-earned, with the 8GB variety costing only £30 more - although the former is only available in the matt silver colour.
File format support is still par for the course, with MP3 (up to 320Kbps and VBR), AAC (up to 320Kbps), WAV, AIFF and Apple Lossless for audio, and H.264 and MPEG 4 for video. And the iPod Nano still has no FM radio, microphone or line-in functionality.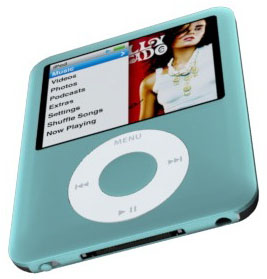 Apple's iPod Nano: skinny but wide... too wide
Verdict
Apple continues to make great products - you can't deny it. But, at the same time one starts to suspect it's lost its way just a little. Once, any product sporting the bitten fruit logo was going to be both super stylish and durable. Yes, the new Nano fits into a pocket in a pair of jeans much easier than the older incarnation, but it's still extremely susceptible to superficial damage.
In addition, the inclusion of video is arguably a feature too far. The screen is really too small to watch. The only (slight) benefit is being to use the Nano as a player and watch the video on a bigger screen. So, we prefer the older Nano, to be truthful. It didn't pretend to be anything other than a very nice, compact MP3 player with an accessible navigation system.

Apple iPod Nano third-generation
Looks lovely, naturally. But has practicality suffered at the hands of style..?
Price:
4GB: £99/$149, 8GB: £129/$199 RRP