Carphone Warehouse has leaked pictures of an upcoming handset re-branded by UK designer Ted Baker. The phone appears to be HTC's Touch, but offered in a selection of mode-of-the-moment colours.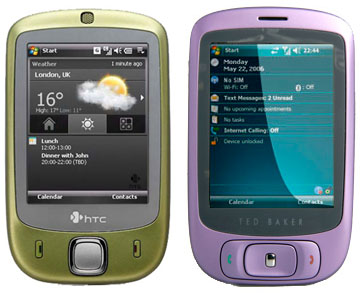 HTC's Touch (left) and Ted Baker's phone: by any chance related?
Dubbed the Ted Baker Needle, supplier Carphone Warehouse assertively states the model is "unlike most other fashion phones", possibly because it knows how crowded the designer handset market is, thanks to the Levis phone, LG's Prada and Samsung's Armani.
The only specs given away so far are that it's based on Windows Mobile, has Wi-Fi connectivity, a touch screen and expandable memory. If it's truly based on the Touch then it'll have Windows Mobile 6, 802.11 b/g wireless, a 2.8in, 240 x 320 display and a Micro SD expansion slot.
HTC's Touch also incorporates a 201MHz processor,a two-megapixel snapper around the back, and has GSM/GPRS/Edge tri-band cellular connectivity and Bluetooth 2.0.
Aesthetically the only differences between the two are addition of a Ted Baker logo and a stretched out speaker at the top of the handset. Its main control cluster has been altered from the Touch's, and the Carphone Warehouse page reveals the handset in a selection of pastel colours, including purple and pink.
The Needle expected to arrive here in November, but no information about network coverage or price plans are yet available.
Similar topics