The US Coast Guard has stoutly denied that its new National Security Cutters, currently under development, will be leaky - leaky in a wireless-security sense, that is.
The US Coast Guard, a seagoing paramilitary organisation with rescue and enforcement responsibilities, is comparable in size to many medium-sized world navies. The planned "cutters" are actually 4,300 ton pocket frigates mounting 57mm cannon and radar-controlled Phalanx gatlings capable of shooting a missile out of the air.
They can carry a brace of normal helicopters or as many as four Fire Scout droid choppers configured for surveillance or armed attack.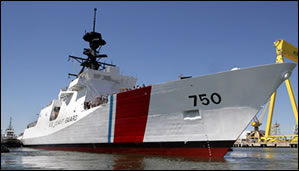 A US Coast Guard "cutter". Hate to meet one of their big ships.
The cutters are supposed to be capable of operating with US Navy and other military forces in the various Wars On Stuff, and they will thus be able to tie into the armed forces' comms and IT networks. This brings with it a requirement for military-grade security.
In particular, the Coasties' new ships need to be compliant with the National Security Agency's TEMPEST certification. TEMPEST refers to a type of spying in which suitably equipped attackers can sniff electromagnetic emissions from unshielded electronics, even if that gear isn't designed to communicate wirelessly.
If suitable precautions aren't taken, a team of knob-turners in a van parked on the jetty - or a "fishing boat" lurking nearby at sea - could conceivably tune into much of what was happening in a cutter's ops room or signals office, lifting the info unencrypted from the ship's internal systems.
Serious electronic spooks aren't found on the payroll of the Coasties' day-to-day enemies - drug smugglers and such. But if a cutter is plugged in to the US Navy's net it will become a target for first-division players, so it needs to have suitable security.
But, of late, reports have circulated that Coast Guard inspection teams have found that the new ships may not be TEMPEST compliant.
But officials are now contradicting that version of the story, saying they were just trying to get on top of any problems at an early stage.
"Everything will be done before the first piece of classified material ever runs on this ship," Coast Guard Admiral Ronald Rabago told Aerospace Daily yesterday.
"We wanted to get ahead of any potential Tempest issues. This will all be resolved. We take Tempest certification very, very seriously. We are not going to operate a system unless it meets all the requirements."
Michael Tangora, Coast Guard acquisition chief, said: "We'll probably find more stuff. This is a normal course of events, especially when you bring a first-of-class ship online. This is when you're learning all your problems."
Tangora said some shielding of electronics cabinets might need to be sorted out.
"We're taking tests on cabinets early, and we found emanations," he said. "But these are not classified emanations. We're just pumping electricity and signals through. If there are problems, we're correcting them."
Tangora said the new warship-like cutter would be "the most capable C4ISR* ship the Coast Guard has ever built". ®
*Command, Control, Communications, Computers, Intelligence, Surveillance and Reconnaissance. Some people like to get a "Target Acquisition" in there too, for C4ISTAR. Anyone remember back when it was just Command & Control? ®