Official: James Blunt is a w*nker
Now, that is blunt
---
The Great British public have spoken. After allowing warbling military aristocrat James Blunt to inflict his peculiar brand of vanilla-acoustic mewl on a broken nation for two years, they have risen up to declare he's a w*nker.
The verdict has been delivered via CD warehousing operation Amazon.co.uk, as witnessed in the image below. The related searches for the string "james blunt", as well as returning inoffensive Scottish chanteuse KT Tunstall, include the word "w*nker".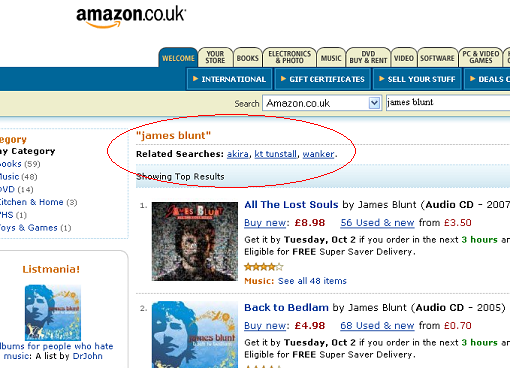 Unlike the phenomenon of Google bombing, where webmasters deliberately game the web's most popular search engine (most famously when the top hit on a search for "miserable failure" was George W Bush's website), Amazon's related search and related products functions seem to be an authentic measure of popular opinion. We've noted this before with porn being punted to Natalie Portman fans, and would like to propose that the next election be decided by the Amazon search engine.
Furthermore, we'd also like to insist that Captain Jimmy Blunt permanently deploys himself in the US, where related searches on Amazon.com are markedly less damning.
Try it yourself here. ®
Bootnote
Thanks to Ian for the beautiful tip-off.