Sony talks up 'world's first' OLED TV
Small screen, very big price tag
---
Sony demo'd a series of OLED-based TVs at the Consumer Electronics Show in Las Vegas this past January. Today, it said one of them go on sale on 1 December - the first ever commercial OLED TV, the company claimed.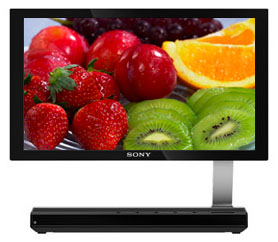 Sony's XEL-1: million-to-one contrast ratio
Dubbed the XEL-1, the 11in screen contains a display panel that's just 3mm thick - though the XEL-1 itself is rather thicker than that. The resolution is a not-quite-HD 940 x 540, though the TV will happily take a 1080p signal and squeeze it down.
Sony claimed the XEL-1's panel provides great colour quality, and if it's anything like the CES demo models they will. The screens have a contrast ratio of a whopping 1,000,000:1 - considerably higher than most LCD and plasma TVs.
Sony didn't address the panel's longevity. OLED is traditionally held to have a lower lifespan than the other two flat-panel TV technologies.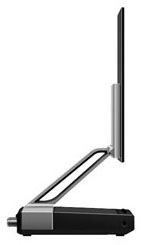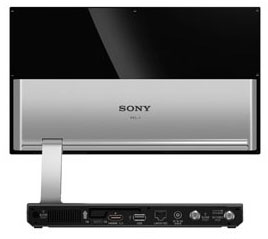 Sony's XEL-1: skinny, yet packed with ports
The XEL-1 is based on what Sony calls its 'Super Top Emission' (STE) technology. STE uses a pitted organic film - the pits are called micro-cavities - to reflect out of the display light that has bounced back off the display's semi-transparent cathode, the negatively charged material used to send electrons through the OLED's organic film, generating light. The colours themselves are produced by through STE's colour filters, placed above the cathode.
Interestingly, the XEL-1 is networkable - it's got an 10/100Mbps Ethernet port on the back, alongside a USB connector and an HDMI port. The TV can connect to content soureces that meet the DLNA (Digital Living Network Alliance) specification. It also has a built in digital TV tuner for Japanese broadcasts.
Japanese consumers should expect to pay around ¥200,000 ($1744/£854/€1225) for the XEL-1 when it comes to market in two months' time. Over here, you could buy a half-decent 42in plasma for that.
Similar topics
Narrower topics