The space shuttle Discovery is primed and ready for launch. It arrived on the launchpad this weekend, and engineers are getting ready for a dress rehearsal of the launch. The shuttle is due to blast off for the International Space Station on October 23 under the designation STS-120.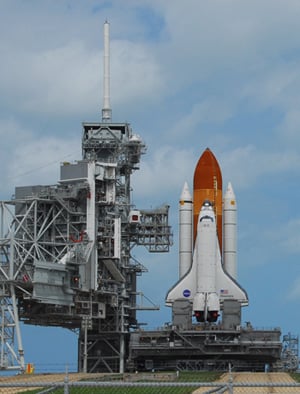 The mission will see Discovery deliver vital parts and equipment to the space station. The crew will add a module (called the Harmony module, or Node 2) to the ISS that will serve as a port for Japanese and European laboratories. They will also move the station's solar arrays to their permanent position, and redeploy them in place.
"STS-120 is such a cool mission," said Commander Pam Melroy. "Node 2 is the expansion of the space station's capability to bring international laboratories up. It's the expansion of our capability to carry additional people. It has additional life support equipment that will allow us to expand out beyond a three-person crew. It's this big boost in the capability which is really exciting."
The mission will also handle a crew rotation. Mission specialist Daniel Tani will fly up on Discovery and remain on board the ISS, while current resident and flight engineer Clayton Anderson will fly home. Tani is set to return to Earth with the crew of mission STS-122, which is scheduled to launch December 6.
The mission will be led by Commander Pam Melroy, and piloted by George Zamka. Other crew members include mission specialists Scott Parazynski, Stephanie Wilson, Doug Wheelock and Paolo Nespoli of the European Space Agency.
NASA has also assigned the crew for the next mission on the shuttle Endeavour, set to lift off in September 2008. This flight, STS-126, will deliver pieces of the space station that will make it possible for much larger crews to stay aloft. ®