Review With increasing hard drive sizes, the arrival of touchscreen technology and ever more features and falling prices, it's easy to forget the more humble end of the personal digital music player market. However, Sony's NWD-B105 proves there are still some good value and strongly featured products at the lower price points.
At this end of the market, the look and feel of the product is perhaps even more important than on more expensive items. With fewer features to win over prospective buyers, the product needs to make a good first impression. The NWD-B105 comes in three basic but attractive colours: black, white and violet. At 30g, it's extremely light and has a pleasant, almost soft-to-the-touch coating on the outer shell.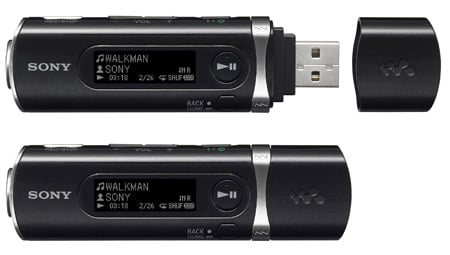 Sony's NWD-B105: available in black...
Aesthetics aside, the product's most noteworthy trick is that there's no software bundled with the product. The normal SonicStage app is missing, presumed lost.
Instead, this player is all about simplicity. A basic-looking folder icon appears a few seconds after connection. With a sub-folder for storing any voice recordings made or transferred onto the player, files are just dragged over from the computer. The no-nonsense approach is continued with a built-on USB jack which plugs straight into the computer, so there are no cables to lose, tread on, lend out and never get back.
Getting the machine up and running is simple as well. From new, a full charge took just under an hour - although the figure quoted in the manual is 120 minutes. File transfer is fast, too. On a player with this kind of memory size - 2GB, to be precise - lots of transfers, often of singles or a couple of albums, are going to be taking place. Happily, one album buzzes over in well under a minute, and a more random selection of seven took just under ten.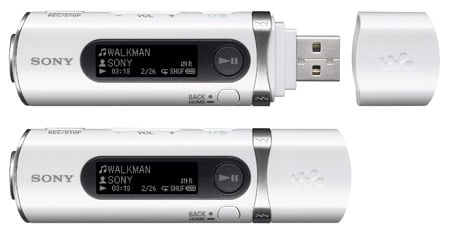 ...and white...
Sony quotes a storage capacity of 999 songs, but that's at 48Kbps. Choose 256Kbps and the number drops to an acceptable 250. A feature we particularly liked was the built-in software which can automatically pick the most recently added tracks to a PC, so the unit carries always the user's most recently downloaded files.