US men wrangle over three-year-old amputated leg
America, Halloween, and the mighty dollar
---
Two U.S. men are fighting over an amputated leg that was stowed in a barbecue smoker. One man says he purchased the leg when the smoker was auctioned off by a storage facility in Maiden, North Carolina. The other says the leg was once attached to his body.
When doctors amputated John Wood's leg following a 2004 plane crash, The Charlotte Observer reports, he asked if he could keep it, hoping it could be buried alongside him when he died. The doctors complied, and until his electricity was cut off, Wood kept the leg stored in his freezer. After that, he hung it on a fence post in his front yard.
Then he lost his house too. So he tucked the leg into a barbecue smoker and moved it to a local storage facility.
But Wood had trouble keeping up with monthly payments, and last week, the facility sold the smoker at auction. It was purchased by Maiden's Shannon Whisnant, who soon phoned 911. A TV station in nearby Spartanburg, South Carolina tracked down a recording of the call:
Dispatch: "What's the problem there?"

Caller: "I got a human foot."

Dispatch: "Have a what?"

Caller: "A human left foot."

Dispatch: "What's your name?"

Caller: "My name is Shannon Whisnant, and it's plum nasty. Got me grossed out."
Whisnant passed the foot on to the local police, and once the police decided it wasn't criminal evidence, they sent it to the local morgue.
But now Whisnant wants it back. And so does Wood.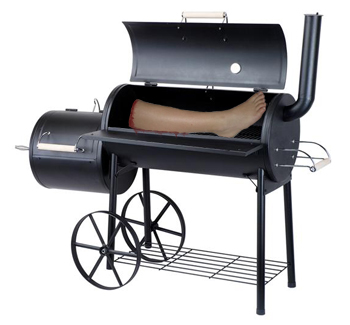 Our Artist's impression: cost us an arm and...
Whisnant has been charging adults $3 and children $1 to look inside the empty smoker, and now he thinks he can make even more money with the leg itself. Smoker receipt in hand, he tried to retrieve it from the morgue, but the morgue wouldn't oblige. Now, after consulting with a lawyer, he hopes to form a partnership with Wood.
"It's a strange incident and Halloween's just around the corner," Whisnant told The Charlotte Observer. "The price will be going up if I get [a stake in] the leg."
Wood just wants the rest of his body. "He's making a freak show out of it," Wood said of Whisnant. "He wants to go on 'The Tonight Show' and he wants to sell it to the National Enquirer."
This morning, one loyal El Reg reader sent us an email, asking if our American correspondents could answer two questions related to this story:
1. What relevance does an amputated leg have to Halloween?

2. Why will Americans pay to look in an empty barbecue smoker?
Well, we have answers:
1. As Halloween approaches, Americans spend large amounts of money on things the rest of the world isn't likely to understand. This could include a peek at an amputated leg.

2. American spending habits remain much the same when it's not Halloween.
So now you know. ®