Novell punts world's most expensive Linux distro
You could get 18.4 copies of Vista Home Premium for that
---
One of the favourite public refrains of the FOSS movement is that Windows is too expensive, and that Microsoft swindles consumers, governments, taxpayers, penguins, and orphans.
In the interests of balance, we'd like to draw attention to Novell's forthcoming release of openSUSE 10.3, available for pre-order on its website.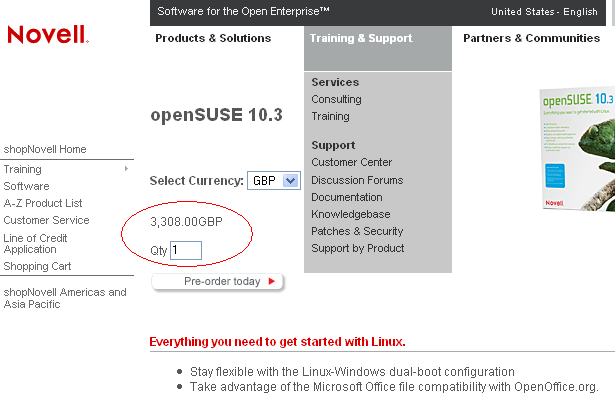 openSUSE: Doesn't even come with Windows Media Player
Yes, Novell wants £3,308 for tuppence-worth of DVD loaded with free software. We also note that German and French fanboys can hack the kernel to their heart's content for a mere €51.68. This disgraceful example of rip-off Britain will not stand.
Of course, open source conspiracy theorists (and shockingly, they do exist) will cry that this is a direct result of Novell's recently enacted policy of appeasement towards the Beast of Redmond. ®
Bootnote
Thanks to reader John for the heads-up.