Review Thanks to a recent and long overdue amendment to the UK's 1949 Wireless Telegraphy Act, it's now possible for those of us living in these sometimes benighted islands to use an in-car FM transmitter iPod adapter without fear of the long arm of the law feeling our collars for impinging on someone else's spectrum by running a pirate radio station, albeit one with a broadcast footprint a few meters in diameter.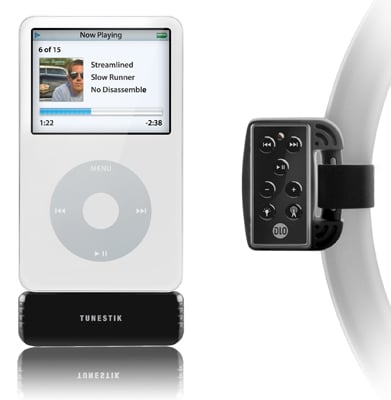 DLO's TuneStik... with remote
Griffin's iTrip blazed the path for these handy little gadgets, useful for those who don't want cables festooned about their car cabin and vital for those poor souls who only have a CD player in their motors. Now we have DLO's offering, the remote control-equipped TuneStik, a gadget that seeks to separate itself from the herd by the inclusion of a remote control that allows you to select your music without getting distracted while fiddling with your iPod and inadvertently causing a pile-up on the M6.
Out of the box, the TuneStik consists of a small - 5.8 x 2.8 x 0.5cm, 7g - RF remote control complete with cradle and velcro strap to attach it to your steering wheel, and the TuneStik FM transmitter that attaches to your iPod's dock port. The dock connector is of the pass-though variety, allowing a power charger or other iPod accessory to be attached in series. Set up is pretty straightforward: find an 'empty' frequency on your car radio then set the TuneStik transmitter to the same frequency using the remote control - the transmission frequency shows up on your iPod's screen.
Done, you're ready to rock - or, given the automotive angle, roll.
The steering wheel remote control cradle works well, after a few minutes fiddling we managed a snug and secure fix to the steering wheels of both a Mercedes E230 and a Toyota Previa. The remote control itself clips in and out of the cradle with a secure click and we have no worries about the cradle's long term durability.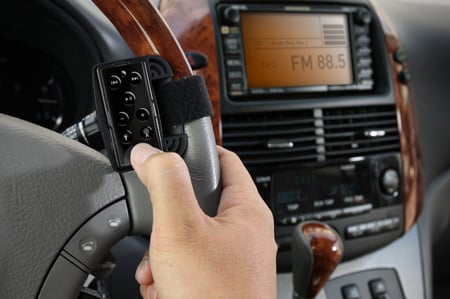 DLO's TuneStik: connect and drive
On the move the TuneStik remote allows you to select next and previous tracks, play and pause the music, adjust the volume up or down, and to illuminate the iPod screen. Not exactly full iPod functionality, but more than enough to keep you in control of your playlists - and your car safely on the road. One small failing with the remote is the lack of any sort of backlight which can make getting the right button a bit of a hit and miss affair during night driving.