This article is more than 1 year old
Braindead obituarists hoaxed by Wikipedia
Only fools and journos
The veteran BBC TV composer and arranger Ronnie Hazlehurst died on Monday night. His long career at the corporation produced some of the most (irritatingly) memorable theme tunes: including The Two Ronnies, Reggie Perrin, Last Of The Summer Wine, Blankety Blank and the Morse Code theme for Some Mothers Do 'Ave 'Em.
But when his obituaries appeared yesterday, there was an odd addition to Hazlehurst's canon. Apparently he had emerged from retirement a few years ago to co-write the song 'Reach', a hit for Simon "Spice Girls" Fuller's creation S Club 7.
"There could only be one source for this," suggests Shaun Rolph, who tipped us off.
And yes - you can probably guess what it is: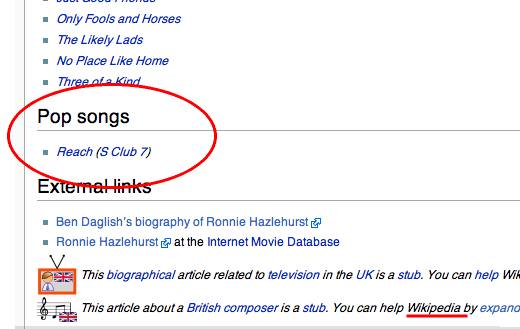 A couple of seconds in Google takes you to a real, primary source, EMI Publishing, where the correct credit for 'Reach' is hidden in plain view: Cathy Dennis and Andrew Todd. The MCPS confirmed to us that the royalties are split 50:50 between the two composers.
So who fell for this?
Step forward BBC News, the Grauniad 2.0, the Independent, the Times, The Stage and Reuters - who all cut and pasted the phoney factoid from Wikipedia without a second thought. The Times' obituary writer professed to be surprised by Ronnie's late-career comeback - but not so surprised he felt the need to check.
Hats off to the Telegraph, however, for not supping from the poison cup of Web 2.0.
(For you trainspotters: an anonymous edit introduced the hoax into the entries for both Hazlehurst and the song last month; an editor spotted the hoax on the WWiki's page about the song, but not the page for the composer. Subsequently, diligent Wikipedians even corrected the spelling of "Hazlehurst" - but not the false information itself.)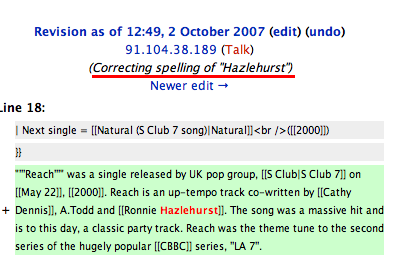 Wikipedian corrects spelling mistake - fails to spot hoax
Recently, Tom Melly wrote here about how lazy hacks could look no further than Wikipedia for biographical information about his late father George - and rightly put the blame for the spread of misinformation on the journalists themselves.
But this is the first case of obituarists being hoaxed in such large numbers. It's as well Wikipedia hasn't branched out into the Funerals and Tombstones business.
Yet.
Adds Shaun:
"He was at the Beeb for 20 years and they clearly just spent five minutes on Wikipedia to prepare his obit. I'd feel happier if he had written Reach. I'd like to have seen S Club going through Hebden Bridge in a tin bath." ®
Bootnote
With fantastic timing, the Guardian Arts blog asked yesterday, "Could the birth of literary software herald the rise of robotic authors?".
Er... they're working on it, folks - starting with robotic reporters.