Gone are the days of candle-lit dinners, Eiffel Tower proposals, and sinking to one's knee. American manufacturer Euri has created the ultimate timesaver for loved-up businessmen. Just pop an engagement ring into the Euricase, record a video, and let a built-in LCD screen do the hard work without you.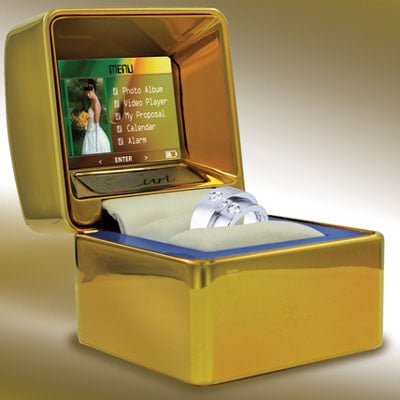 Euricase: Chuck in a ring and record a video. Job done
The Euricase looks like a normal ring box. Open the lid, however, and there's a 2in LCD display that displays pre-recorded videos or pictures when opened. It also has a built-in speaker for audio.
Content is uploaded via a USB port, which the manufacturer claims can hold over 500 pictures or 60 minutes of video. [Surely even Hugh Grant doesn't need an hour to propose - Ed] The Euricase also has a built in clock, calendar, alarm, and battery life indicator.
The case runs on a rechargeable battery and is available in a selection of finishes, including metal and acrylic.
It's available here now for $200 (£100/€130). But if you're looking to save a few bucks on the wedding, there's also a $100 (£50/€80) version that only sports a microphone for pre-recorded messages and a display that scrolls "I love you" across it. But you don't want her to think you're cheap... ®