Apple TV 160GB media player
A must-have for anyone with music and movies on a PC?
Review Over the past couple of years we've tried at least four different media extenders from Buffalo, D-Link and Pinnacle in an attempt to send AVI movie files from a PC to a TV. The PC is in a home office box, and the TV is in the living room, and all we want to do is watch recorded American TV shows on the big screen.
All four devices involved stacks of software, all sorts of nonsensical procedures to synchronise media libraries, and then, inevitably, delivered stop/start streaming, frozen pictures and audio that would get out of sync.
These failures seem to have arisen because they are networking companies who put the emphasis on streaming a signal from Box A (a router) to Box B (their gizmo under the telly) instead of building a device that performs a series of tasks with the minimum of fuss.
The answer would appear to be simple: switch to an Ethernet cable to overcome the bandwidth limitations of 802.11b or g Wi-Fi and all will be well. But our experience suggests otherwise, which suggests that the problems aren't restricted to wireless technology.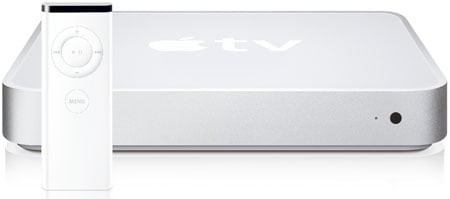 Apple's Apple TV: complete with remote - but no cables
We have to admit that we haven't used an Xbox 360 as a Media Extender, so it's possible that Microsoft cracked this particular problem a while back, but the Apple TV aroused our interest, despite its daft name - it's not, when all said and done, a TV: it's a set-top box. Yes, it's a networked unit, but unlike other devices stores content locally so there's no need to stream anything.
The first thing that strikes you is the tiny size of the unit. It measures 19.6 x 19.6cm and is only 2.8cm tall, which is miniscule compared to the hefty boxes supplied by the networking boys, all of which are the size of a domestic DVD player. This is especially impressive as the Apple TV contains plenty of hardware, including the power transformer.
Inside, the Apple TV uses a 1GHz Intel Pentium M processor, an Nvidia G72M graphics chip with 64MB of video memory, a 2.5in laptop hard drive, 802.11n wireless kit and the aforementioned power supply.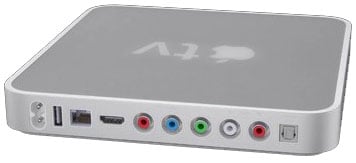 Apple's Apple TV: HDTV-friendly ports
On the front of the unit is an activity LED and an infrared receiver for the remote control, while the row of ports lives on the back and consists of a power connector, a USB 2.0 port for service and diagnostics - why not for files on a USB Flash drive? - 10/100Mbps Ethernet, HDMI, component-video, RCA stereo outputs and an optical digital audio connector.