The whispers and omens of Halo developer, Bungie Studios departing from Microsoft were true. Microsoft announced today it will spin its record-breaking development team back into the wild.
"Our collaboration with Bungie has resulted in Halo becoming an enduring mainstream hit," said Shane Kim, corporate veep of Microsoft Game Studios. "While we are supporting Bungie's desire to return to its independent roots, we will continue to invest in our Halo entertainment property with Bungie and other partners, such as Peter Jackson, on a new interactive series set in the Halo universe."
Microsoft will retain all rights to the Halo franchise, but the deal will give Bungie the opportunity to make games for other consoles.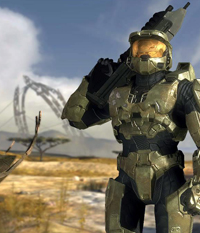 Guess he finished the fight
"We will continue to develop with our primary focus on Microsoft platforms; we greatly value our mutually prosperous relationship with our publisher, Microsoft Game Studios, and we look forward to continuing that affiliation through Halo and beyond."
As a lover scorned, Microsoft's hindsight can only be too crystal. The signs were there: Bungie's lack of intimacy when they moved shop to Kirkland, a change in priorities, a mysterious friend...
"Working with Microsoft was great for us," said Bungie co-founder, Jason Jones, "it allowed us to grow as a team and make the ambitious, blockbuster games we all wanted to work on."
"But Bungie is like a shark. We have to keep moving to survive. We have to continually test ourselves, or we might as well be dolphins. Or manatees."
Microsoft will maintain a stake in the company, although terms of agreement weren't disclosed.
Bungie began its life in 1992 as an independent game developer, best known for its trilogy of Mac-based first person shooters, Marathon, and its Myth family of fantasy combat games. The company later sold a 20 per cent stake to its then-distributer, Take-Two Interactive. In 2000, Microsoft bought the company outright, moving the business to a Microsoft-only affair.
Similar topics