Review O2 may have beaten its rivals to the iPhone, but it's already launched a first assault on the mobile music market with a distinctively quirky own-brand design, the Cocoon. With 2GB of tune-packing internal memory and 2GB memory card support it's ready to go toe-to-toe with most other music phones. And, strangely enough, alarm clocks too...
O2 has been plugging away at its mobile music credentials for a while now. Think the O2 - aka the Millennium Dome - and the O2 Wireless Festival, for starters. Then the O2 Cocoon was dropped on us.


O2's Cocoon: simple, two-tone design
The Cocoon certainly is different. As well as a distinctive curvy old-school iPod-white clamshell casing, and a full rundown of HSDPA 3G-enabled features, the handset offers, uniquely, a natty scrolling hidden display on the outside of the casing and an alarm clock alter ego.
Developed in collaboration with mobile maker Pantech, the Cocoon makes a good fist of music playback. It sports a multi-format music player - MP3, AAC, AAC+, WMA and WAV files are supported - and has 2GB of internal memory, along with Micro SD support for cards of up to 2GB. An FM radio with RDS is inside too.
A two-megapixel camera on the front of the Cocoon takes care of snapping and video shooting while a smaller camera inside the clamshell delivers video calling. HSDPA promises mobile broadband download rates and internet surfing wherever the network supports it.
A white music player isn't exactly the height of design originality, but the smooth, uncluttered Cocoon is strikingly different for a mobile phone. The sides of the phone are in a contrasting black finish, with several music player control buttons and a key-lock slider lined up on one side, and a mini USB socket, Micro SD card slot and back panel release key on the other.
Closed, the Cocoon looks tidy, though it's heftier than many slimline models shimmying onto the market. It weighs in at 114g and measures 9.4 x 4.9 x 2.1cm at its widest points.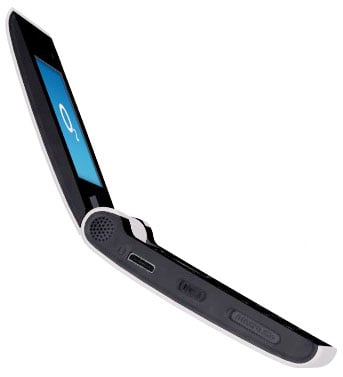 Speakers and portage on the side
At first glance, there appears to be no external display, as you'd ordinarily expect on a flip phone. However, the clever O2 design incorporates a hidden blue LED array behind the white plastic. When activated by a call, message or music track, this displays in large characters caller ID, music track info, or the opening bits of incoming text messages, scrolling from right to left. Smaller indictors glow to indicate alarm set, message waiting, battery level, incoming call, and so on. And then there's the clock...