The Solo's set-up process is straightforward - install the SlingPlayer software and, by and large, you're away. Sling has certainly improved the process, hiding more the networking stuff away, but it could do more to smooth it for the less technically adept. We forgot to open up the relevant part of our laptop's firewall, preventing SlingPlayer from spotting the Solo. The app could have suggested directly that we check this - we eventually found the solution in the Help file. It's a common enough mistake, after all.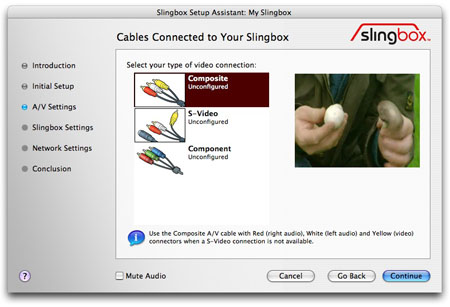 Sling's Slingbox Solo: select which of the three inputs you'll use
The Solo's internal workings are more advanced than those of the original Slingbox. The new model can process and send out images at up to 640 x 480 resolution, so it's just below the UK's PAL 720 x 576 picture size, but a little more computer-friendly, and certainly not, of itself, HD. However, the Solo is able to recognise 16:9 widescreen signals and format the image size accordingly. It's also able to transmit at up to 8Mbps - up from the old model's 2.5Mbps limit - though what you actually receive will depend on the bandwidth of the narrowest part of the network over which the Solo is transmitting.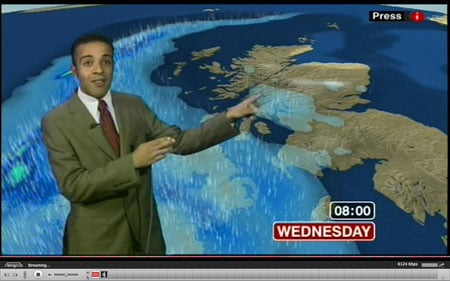 Sling's Slingbox Solo: good viewing full-screen on a 15.4in laptop display
Click for full-size version
Our powerline adaptors run to a raw speed maximum data rate of 85Mbps, which translates as a real-world throughput of 20-25Mbps - still more than enough space for the Solo's maximum output: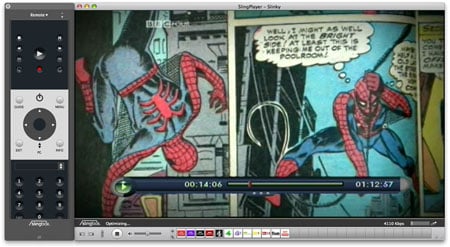 Sling's Slingbox Solo: decent picture quality over the local network...
We got a throughput of up to 5700Kbps going via powerline from Solo to router and then over 802.11g Wi-Fi from the router to the laptop. That's enough to yield a very watchable widescreen picture on the MacBook Pro's 1440 x 900 display. Of course it's not HD - and not even SD really - but it is perfectly good to watch, particularly if you don't sit nose to screen.
Out and about, the results were less impressive. We left our abode and used a Novatel Wireless Merlin XU870 ExpressCard HSDPA add-in to connect back to base over Vodafone's 'super 3G' network. We got bitrates of up to 650Kbps, well short of the local network speed and with a consequent reduction in picture quality: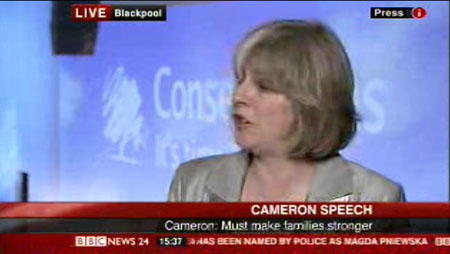 ...but not quite so clear via 3G
That said, it was no worse than a lot of content on YouTube, and while you might not want to put your feet up and watch the latest episode of whatever US drama series is hip this month, it's not so bad for keeping tabs on the news though a small window in the corner of your screen. And with a device that has a smaller display - a Nokia N95, say - where Sling's technology can trade pictures size for lower compression within the same bandwidth, it will be more watchable.