The Solo comes with an infrared transmitter through which the Slingbox controls the video source. We found that no matter how we adjusted this - there are three settings: Fast, Medium and Slow - every button press we made in SlingPlayer, such as moving up and down the channel list or choosing menus - was treated as two presses by the Humax. This doesn't happen with the DVR's own remote, suggesting the Sling unit is to blame. Indeed, this wasn't something we experienced with the original Slingbox.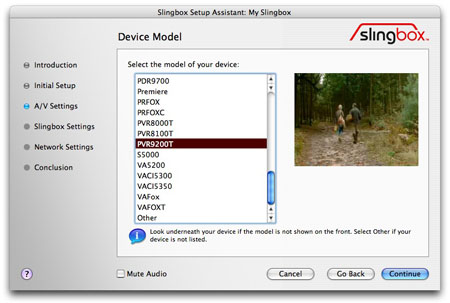 Sling's Slingbox Solo: vast range of UK video hardware supported
At least we could get around the problem to some extent by storing our favourite channels on SlingPlayer's customisable channel panel, but it meant that we couldn't select every channel in the DVR's electronic programme guide, preventing us from scheduling recordings remotely.
And while we were pleased to find the Humax among the many, many set-top boxes, DVD players and other picture sources listed in the SlingPlayer set-up screens, the remote didn't provide the same or equivalent keys to the Humax remote - even basic ones like getting the list of recorded programmes. Of course, Sling can't produce a virtual remote that matches the look of every single real remote out there, but if it's gone to the trouble of supporting as many devices as it has, it could at least have ensured that the virtual remote's five custom buttons could generate useful signals.
You still get a couple of seconds of video judder when you push one of the remote's buttons, a fault Sling really should have licked by now, especially given the bandwidth available to the SlingPlayer-to-Solo link. This wouldn't be a concern if you were connecting using a mobile phone, but it's not something you ought to experience when Slingbox and computer are on the same, local network.
Finally, there's the Solo's lack of tuner. Without one, the Solo is limited in its applicability to households not only with an existing tuner, but also where the residents are in total accord about what they want to watch. With, say, a Slingbox Pro, we could watch documentaries on BBC Four while the missus caught up with the latest episode of House. She watched the signal from the set-top box; we watched the signal from the Slingbox.


Sling's Slingbox Solo: eminently watchable
With no tuner, that's impossible with the Solo, and flipping channels while your other half is watching something is not a recipe for domestic bliss. This won't be an issue for someone with a TV that has an integrated digital TV tuner, of course, but it is a problem for the many of us who don't.
Still, the Solo does deliver content over the network in an eminently watchable form, and we quickly put it to use streaming late-night TV to a laptop in the bedroom, and we can see it being an ideal way of keeping up with what's happening in the UK the next time we're away on holiday, provided the apartment has broadband, of course.
Verdict
Sling Media's Slingbox Solo lacks the range of roles you can put its bigger, better sibling - the Slingbox Pro - to, and that limits its usefulness to many consumers. But if you just want to stream a single source around your home, to a laptop in a holiday home, or to a 3G mobile phone, it does the trick. Just make sure your other half isn't watching at the same time, or you'll be introduced to a new theatre in the war for the remote.

Slingbox Solo TV-over-the-net device
A tuner-less Slingbox for folk who already have a set-top box...