NSFW We're very much obliged to reader Phillip Young for alerting us that Amazon UK is peddling anal sex toys to any wide-eyed kiddie looking to strap on a Spiderman watch: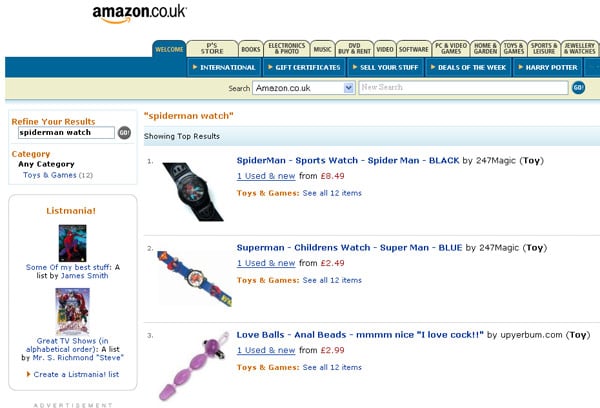 What's even more repulsive than the fact that a highly reputable etailer seems bent on corrupting Britain's innocent children is that the single "mmmm nice 'I love cock!!'" tradesman's entrance stimulator was earlier today available "used from £2.99" - as Phillip's screen grab shows.
Sickeningly, it appears some 11-year-old has now snaffled the device in question, since it's currently "unavailable". Presumably, it'll become "reavailable" when the novelty wears off and it re-emerges from where the sun don't shine.
And speaking of the sun, we have made our dossier available to the usual UK redtops and, of course, the Daily Mail. ®