This article is more than 1 year old
Rise of the f*cking machines: Arse Elektronika bumps uglies with Web 2.0
Teledildonics to fill emptiness of modern geek-based life forms?
NSFW "To learn how to make computers more human, we have to f*ck them." - Stefan Lutschinger, Arse Elektronika
How could El Reg fail to cover a conference with presentations like Paging Dr. Moreau: "Humanimal" Porn in the Age of Xenotransplants and Genetic Chimera on the agenda - a conference set in a San Francisco dungeon porn palace, no less?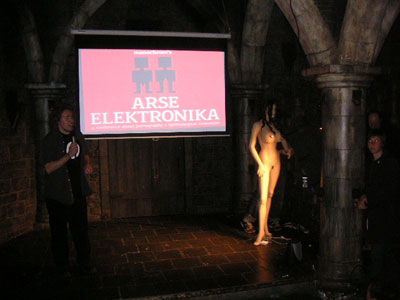 Nice arse.
We couldn't. Although that particular presentation morphed into a more general presentation on pornutopia as a post-modern construct, we nonetheless decided to step into the breach to slake your insatiable thirst for all things tech, be they computers, dildos, or any combination thereof.
Arse Elektronika - not to be confused, of course, with either Ars Electronica, the European arts and technology festival, nor Ars Technica, the respected technology publication - is a new conference that devotes itself to the study of the interplay between pornography and technology.
The premise is indisputable. The erotic instinct, in all of its manifestations, has been a driving force in technology and the arts at least since the days of prehistoric European figurines.
Ancient Mesopotamian dildo ceramics, brothel frescoes from Herculaneum, the popularization of Japanese wood block prints - the breadth and scope of mankind's assorted sexual talismans, scattered as they are across the landscape of human history, belie any narrow explanation of their significance.
The flipside of such ubiquity is the commonality of the material. Porn on the internet today, naughty Roman frescoes back in 79 AD - really, what's the difference?