Rise of the f*cking machines: Arse Elektronika bumps uglies with Web 2.0
Teledildonics to fill emptiness of modern geek-based life forms?
---
Partying with Moaning Lisa, the Electronic Orifice Orchestra and F*ckzilla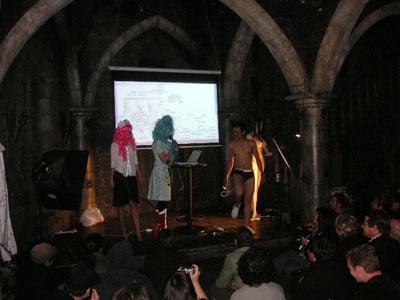 Strawberry Shortc*nt and Mr Farts get down.
The conference kicked off with an unexpectedly sober party, webcast via jerry-rigged high definition feed.
Regrettably booze-free due to the lack of an alcohol permit, the event began with a demo of Moaning Lisa, a reconfigured mannequin equipped with sensors in the eyes and the erogoneous zones with the idea that men could get a feel for the mystery of just what it is that women want.
Maybe she should have been programmed by a woman. She intermittently squeezed out a few grunts and groans, and her hand eventually fell off - more Venus de Milo than Greek Girl.
The Electronic Orifice Orchestra took the stage next, showing off a performance the web abstract promoted in a tone that could best be described as retro-sideshow chic.
Witness as extravagantly dressed performers use live biofeedback from muscular interior walls of their bodies to create a multi-media interactive show. See body orifices do amazing things that you never imagined possible!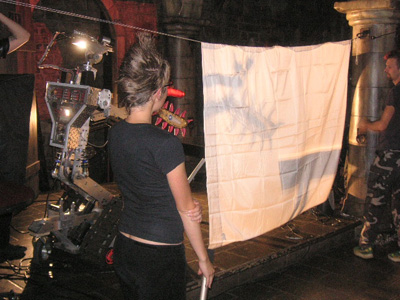 Volunteerism can be rewarding.
Biofeedback, indeed. Wired up and ready to go, Strawberry Shortc*nt and Mr Farts made sweet music together, gyrating on stage.
Truthfully, it wasn't really music or particularly sweet, but it was a live example of biosensors being put to use in service of that postmodern obsession: mating man with machine. That theme - kind of like watching the plot of the novel V unfold in front of one's eyes - would prove to be a principal thrust of the conference.
Of course, what we were all waiting for was the climax of the evening - the f*cking machines. As in, machines that f*ck. None of this attach-biosensors-to-vagina-and-let-machine rip experimentation. This is cold hard robotic penetration.
Meet F*ckzilla.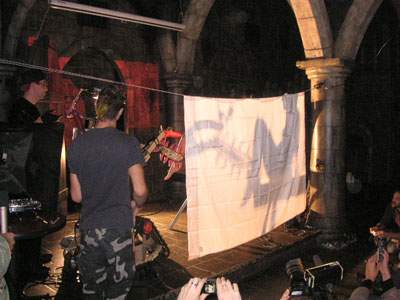 Face to - er - face with F*ckzilla.
F*ckzilla resembles nothing so much as the body of a praying mantis attached to tank-style treads. His left arm is a converted chainsaw, now equipped with rubbery pink tongues rather than a chain. The right arm ends in a massive red dildo - one so big that the woman who volunteered from the audience requested something smaller.
One of those involved with the production returned from the basement with a Sawzall - aka, F*ckzall - modified to accommodate a smaller blue dildo, which was then used for the penetration, while the spinning tongues provided clitoral support.
Due to federal pornography regulations, which would have required everyone in the room to provide identification on record, the actual frenzied climactic act of robo-coitus was performed in silhouette, behind a white sheet.