Foxconn readies its first Intel X38 mobo
Foxconn has become one of the first mobo makers to formally announce a board based on Intel's high-end X38 chipset, complete with support for AMD's CrossFire multi-GPU technology.
Foxconn's Digital Life X38A can take any LGA775-connected Intel processor that will run on an 800, 1066 or 1333MHz frontside bus. The board has six memory slots: two for DDR 3 DIMMs clocked at up to 1333MHz, and four for DDR 2 DIMMs running at up to 1066MHz. You can use DDR 2 or 3 - up to 8GB or 4GB, respectively - but not both.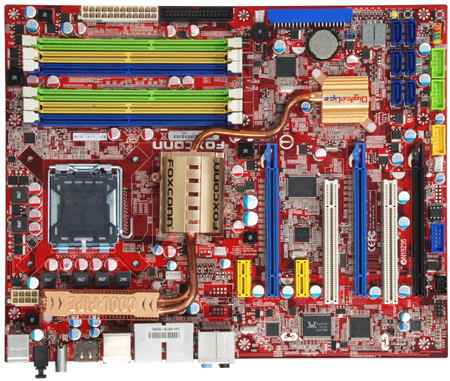 Foxconn's Digital Life X38A
The board is mounted with three PCI Express x16 slots, two of which can take a pair of AMD ATI Radeon-based graphics cards working together in CrossFire mode. The X38A also has two PCIe x1 slots and a pair of old-style PCI connectors.
There are eight USB 2.0 ports, two Firewire connectors and two eSATA ports, along with six 3Gbps SATA connectors and an ATA 133 feed for internal drives and peripherals. The X38A has Intel's Matrix Storage Technology for RAID 0, 1, 5 and 0+1 HDD configurations. There are two Gigabit Ethernet ports.
Foxconn highlighted the board's use of solid-state capacitors - providing greater board stability for overclockers - and the X38A's heatpipe-linked passive northbridge and southbridge coolers.
The X38A goes on sale in November, Foxconn said, for around £120-130 ($244-264/€173-188).