This article is more than 1 year old
Fairly realistic flying car offered for 2009 delivery
It's a car. It can fly. That's it.
One of our favourite notions here at Vulture Central is that of the flying car. Ideally this would be a true sci-fi-style job, backed up by an equally puissant automated air-traffic infrastructure. In such a machine you could simply jump into your car outside your house, quietly lift off vertically, fly somewhere even in bad visibility and congested airspace, and set down again equally vertically. Then you could drive/taxi your astounding hover vehicle into the garage, underground carpark or wherever - or simply park it on the street.
Sadly, the nearest approach offered by current technology is the helicopter. Whirlybirds are noisy, dangerous, expensive and difficult to fly. They take up a hell of a lot of room, too, in the contexts both of airspace and manoeuvres near/on the ground. They aren't going to turn into flying cars any time soon.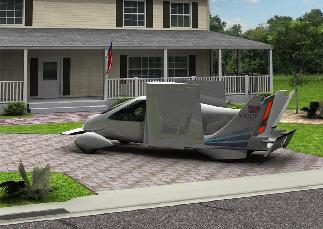 'But honey, your mom doesn't have a runway'
- it won't wash any more. Credit: Benjamin Schweighart
Jump-jets like the Harrier are even worse, in that they can't at present get airborne vertically with a useful load. Ducted fans sometimes seem to offer hope, but the idea has been around for a long time without much in the way of credible kit appearing. The large thrust-disc diameter which a rotorcraft can offer - which is what makes helicopters and tiltrotors a going proposition - doesn't seem feasible for ducted fans, and in any case leads to an undesirably large ground footprint.
Even once you've dealt with all that, there are still the inevitable safety and certification issues that would come with a many-orders-of-magnitude increase in numbers of aircraft over densely-populated areas.
So we probably aren't getting a real flying car any time soon. Current technology could, however, offer something a bit more exciting than the ordinary light aircraft which have been flying almost unchanged since the 1950s. In fact, various inventors and engineers have been working on so-called "roadable" aeroplanes for a long time.
The idea here is that you still have your trusty flying vehicle parked in your driveway or garage, taking up no more room than a regular motor. You stroll out, fire it up and drive it away to a nearby airstrip. Here you extend/attach the wings, prop etc., and it's up, up and away. When you get to your destination strip, you land, convert back to roadgoing configuration, and trundle along to where you're going.
Under NASA's Personal Air Vehicle (PAV) concept, this relatively realistic idea gets some hard-to-achieve bells and whistles added on. A proper NASA PAV is also very quiet and can take off from very short runways, which could permit handy little airstrip-laybys to be scattered all over the place: at shopping-mall carparks, suburban housing estates, major road junctions etc. Better still, the PAV's amazing "synthetic vision" autopilot would be able to interface with a super-duper airtraffic network of the future so as to handle the plane nigh-on autonomously. This would mean that learning to fly a PAV would be no more demanding than getting a regular driver's licence. The PAV could laugh at bad weather and controlled airspace too.