Virgin Galactic, Sir Richard Branson's planned "space tourism" operation, has admitted that it is "still a few years away from operations".
The company's COO has suggested that work is at a standstill pending the outcome of health-and-safety investigations into the fatal explosion earlier this year at the Mojave facilities of Scaled Composites, where Branson's rocketships are being developed.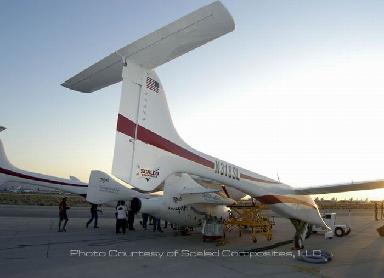 Luxury vomit-comets, grounded perhaps for years.
Virgin Galactic was formed in the wake of Scaled Composites' 2004 Ansari X-Prize triumph, when its privately-developed SpaceShipOne suborbital rocketplane was first to achieve the X-Prize goals. SpaceShipOne was funded by Microsoft founder Paul Allen, and subsequently Richard Branson stepped in with £60m to order a fleet of five scaled-up SpaceShip Two passenger craft and a brace of White Knight Two launch platforms.
The SpaceShip Twos, like their forerunner, will not be able to achieve orbit. However, they will be able to carry their wealthy thrillseeker passengers on brief ballistic arcs outside the Earth's atmosphere, during which they will experience weightlessness and dazzling views. The first hundred tickets - at $200k each - sold fast, and flights were planned to commence in 2008. The New Mexico state government also has coughed up $31m to build a new desert spaceport, designed by Norman Foster, from which the Virgin Galactic fleet will operate.
But it now appears that things have ground to a halt, Alex Tai, Galactic COO, revealed as he addressed the Royal Aeronautical Society last week on the occasion of Sputnik's 50th anniversary.*
Speaking of the fatcats-in-space plans, he referred to the Mojave explosion, saying: "We are waiting for the [accident investigation] report. We are still a few years away from operations," Flight International reports.
Apparently, work on SpaceShip Two is on hold. However, Tai said that a nifty simulator with "stunning visuals" is on offer to console Sigourney Weaver and other wealthy customers who have reserved seats, and who - it now appears - may have to wait until next decade for their zero-gee joyride. ®
*Sputnik actually did reach Earth orbit.
Similar topics