This article is more than 1 year old
Telly vision: future display technologies
Coming soon to a screen near you...
That, in turn, leads to better contrast than LCDs can deliver because black areas are unlit - with an LCD, even black areas let some light through, though TV makers are getting better it minimising this leakage without reducing the brilliance of other colours. LCDs also use a variety of filters and polarizers, all of which reduce the amount of light passing through the front of the screen. To bring the brightness back up, that means burning the backlight more brightly, upping the power consumption.
OLED pixels can be turned on and off very quickly, much more so than the pixels in an LCD panel. LCDs have a response time of around 10ms - a thousand times slower than a typical OLED pixel. That makes for pictures that move more smoothly, though again TV makers are working to improve LCD response times and to introduce techniques like 100Hz refresh rates to counter this.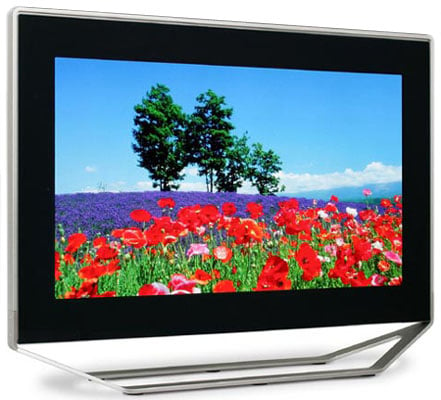 Canon's SED TV prototype
However, OLED technology isn't without its drawbacks, in particular panel longevity. The organic compounds degrade with use, especially those that emit blue light, so they won't operate at full brightness for anywhere near as long as an LCD will. The addition of phosphorescent materials do improve OLED longevity, but still not up to LCD levels.
It has also taken the industry some time to develop panels large enough to be used in TVs - the world's first commercially available OLED TV, Sony's XEL-1, is only 11in across, for example - though this appears as much because OLED screen production hasn't evolved as far as LCD has.
Why not? Primarily because LCD and plasma have become the focus of flat-panel TV production, but also because the intellectual property behind OLED is much more tightly held, which increases development costs for firms who want to design OLED panels.
SED
It's widely held that LCD and plasma technology will mature in the 2010-2012 timeframe, with OLED lined up as their heir apparent. But it's not the only technology in the running. Take SED (Surface-conduction Electron-emitter Display), a system devised by Canon in the early 1980s and that's been in development ever since, though it too has been troubled by debates over who really owns the technology.
SED works in a similar way to an old-style CRT display, but instead of a huge electron gun at the back of the set and the electro magnets used to guide the electron beam across the screen's pixels, SED sets have one tiny electron transmitter mounted behind every single pixel. This means the screens can be flat like OLED, LCD and plasma displays, and can scale from standard-definition resolutions right up to HD and beyond.
How SED Technology Works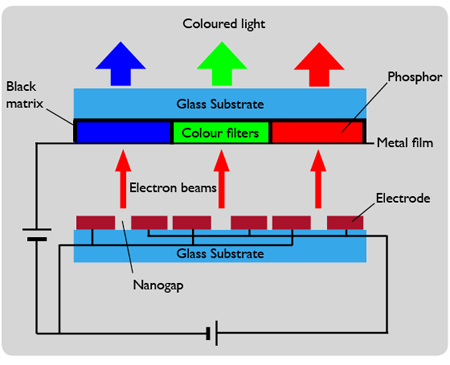 The voltage established between adjacent electrodes fires out an eletron that strikes the phosphor, emitting light that is tuned by the colour filter
Light is produced when an electron hits the phosphor-coated screen, just it is in a CRT TV. Because the screen emits light rather than has light shone through it, as per LCD, it generates high-brightness, high contrast images that are comparable to plasma contrast ratios: 50,000:1 to 100,000:1.