This article is more than 1 year old
Telly vision: future display technologies
Coming soon to a screen near you...
Canon also claims the close proximity of the electron source and the display phosphor means SED screens consume very little power. It also plans to manufacture the electron emitter arrays and associated wiring by spraying materials onto a glass substrate in exactly the same way inkjet printers spray ink into the page. This, the company reckons, will make SED TVs cheap to produce, though such has been the cost of development, we don't expect over-the-counter prices to upset LCD and plasma makers.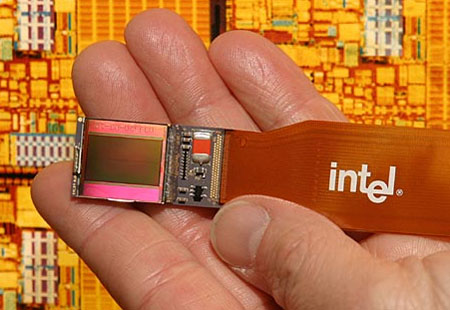 Intel's abortive LCoS chip
Working with Toshiba, Canon has announced that it will soon be able to make commercially available SED TVs with screen sizes of up to 55in. Indeed, the two have been promising SED TVs 'real soon now' for the last three or four years. Hindering their plans has been litigation from Texas-based Nano-Proprietary, a company that maintains Canon wrongfully shared its carbon nanotube technology with Toshiba. Remember SED's tiny per-pixel electron guns? They're made from carbon nanotubes.
While the legal fight looks like it's near its conclusion, it has persuaded Canon not to release SED TVs this year and not even say when they will debut. Some observers hope it can get the out sometime in 2008, but there's an undercurrent of pessimism in many reports that suggests the technology may never make it to market. Toshiba sold its share of the joint-venture established with Canon, leaving Canon as the only company likely to produce SED TVs. The legal battle with Nano-Proprietary may have left it too tired to bother.
LCoS
If SED fails to take off, there's always LCoS (Liquid Crystal on Silicon). Once favoured and quickly abandoned by chip maker Intel, LCoS uses standard chip-making techniques to embed tiny LCD pixels onto the surface of a chip that contains all the circuitry needed to turn them on and off. The pixels are mounted above a reflective layer. The picture is produced on the chip and cast onto a screen by reflecting light off the chip and magnifying the reflection up to full screen size.
Early LCoS TVs use three chips, one for each of the primary colours, but a more advanced version of the technique displays the three colours on one chip, the colours shown in rapid succession so quickly the eye sees the three images as one.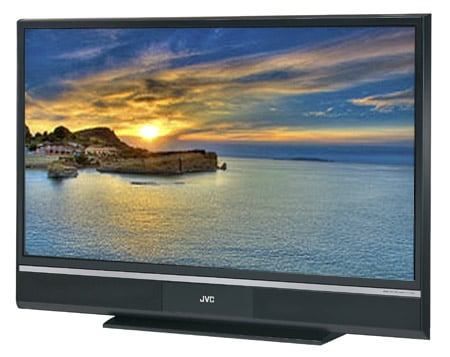 JVC's HD-IDA HD-70GC78 LCoS TV
The big advantage with LCoS is that it improves as chip production develops. Switch the chip from, say, 90nm production to 65nm production, and the smaller size means you can cram more LCD pixels on the chip, upping the resolution. As production yields improve, LCoS chips get cheaper, and it's this application of processor production economics that first attracted Intel's attention.