This article is more than 1 year old
Telly vision: future display technologies
Coming soon to a screen near you...
So far, though, LCoS hasn't delivered big time as a TV technology, though companies like Sony are using it for projectors, particularly for digital cinemas, and JVC has a line of three LCoS TVs, the HD-IDA line, priced at $3300-4496.
Laser
So far no one's released a commercially available laser TV yet, either. But they could appear sooner than some of the other technologies. Mitsubishi, for one, plans to demo a laser TV next January at the Consumer Electronics Show in Las Vegas.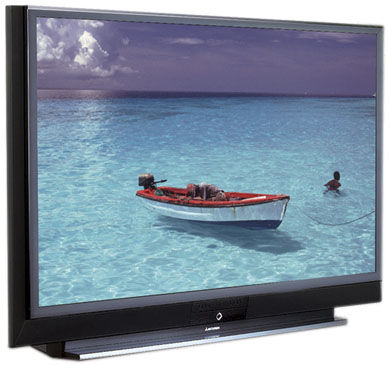 Mitsubishi's Laser TV could look like this
Laser isn't a TV type in its own right. Rather, it's a technique for improving existing designs, in particularly LCD and DLP, but also LCoS. All these approaches require a light source and have traditionally used bulbs that pump out white light which is then optically separated into beams of red, green and blue light.
Laser TVs replace the white light lamps with precisely coloured laser beams. Proponents of the technology claim the result is the ability to generate a much wider range of colours - called a gamut - than is currently possible, allowing TVs to display almost as many if not more colours than the human eye is capable of seeing.
Companies marketing rear-projection TVs - most based on DLP technology, but soon LCoS too - like laser's promise to allow them to make much thinner sets. Big projection TVs generally cost less than equivalent sized LCDs and plasmas, and laser could allow them to compete on thickness too.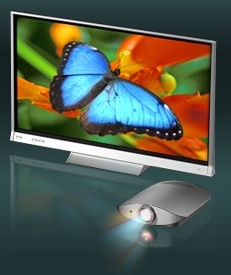 Laser tech could boost LCDs
However, laser could be used to improve LCD panels too, extending the advances already being made with LED backlighting. Again, LED backlights transmit red, green and blue light separately, and have the added advantages of consuming less power and taking up less room than traditional LCD white-light bulb backlights.
LED backlight technology is advancing as quickly as other display techniques are, and when combined with image enhancement systems like 100Hz refresh rates, will undoubtedly extend LCD's life even further. Top-of-the-line LCD TVs with LED backlights are already going on sale. But you can't yet buy a laser-lit telly.
Laser or LED? The jury's out, but LED seems likely to dominate, leaving laser as the high-end backlight of choice, able to deliver more colours, but squeezed out of the mainstream by cheaper LED technology.