Brits will next week get first dibs on one of Samsung's latest music handsets. The company is launching three music phones across Europe over the coming weeks, starting with the SGH-F210 in the UK.
Its two other music-focused phones, the SGH-i450 and SGH-F330, will eventually come to the UK, but Samsung told Register Hardware today that they'll first go on sale in Italy and Germany respectively later this month.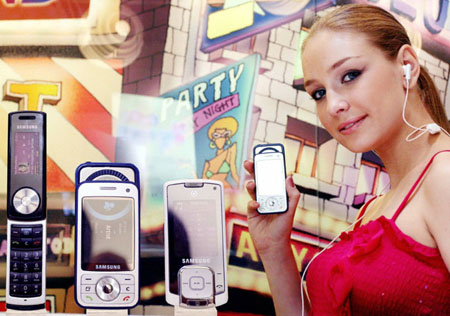 F210 (left) i450 (middle) and F330
The new SGH-F210 Music Swivel Stick was first unveiled in June. It swings open for use as a phone or closes up to look like an MP3 player. Its 1.4in 128 x 220 TFT display has a scroll-wheel interface for changing tracks and displays playlists, equalizer settings and song info horizontally.
Despite having a 1GB internal Flash memory, a Micro SD card slot gives a further 2GB capacity. An FM radio will also keep you entertained if you tire of your mixes.
As a phone, the F210 is tri-band GPRS with Edge, while Bluetooth 2.0 is included for short-range connectivity. A two-megapixel camera is thrown in too.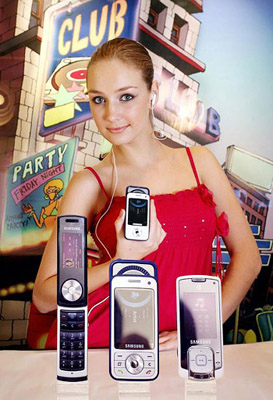 The SGH-F330 has a dedicated music-key cluster on its front, with an identical 1GB of on-board storage space and Micro SD card slot for more capacity. However, it plays MPEG 4 video on its 2.1in, 240 x 320 display and is a 3G phone, with 3.6Mbps HSDPA.
Samsung's SGH-i450 is a two-way slider with speaker built into the underside of its top fascia. There's only 24MB of internal storage available, but a Micro SD card slot gives access to more. It has a 2.1in LCD display capable of displaying 262,000 colours, which should be enough for snaps taken on its two-megapixel camera. It's also tri-band GSM-enabled, with 3.6Mbps HSDPA connectivity for speedy downloads.
The company hasn't confirmed how much each handset will cost in each country yet.
Similar topics